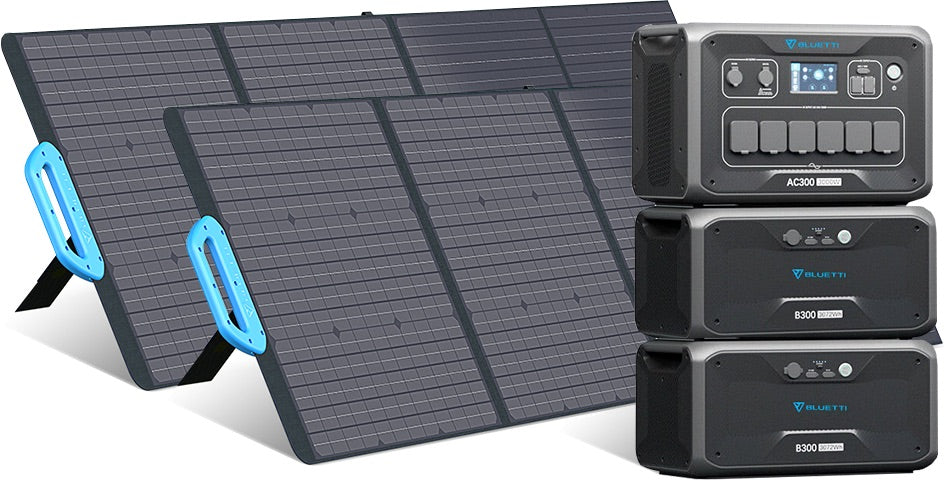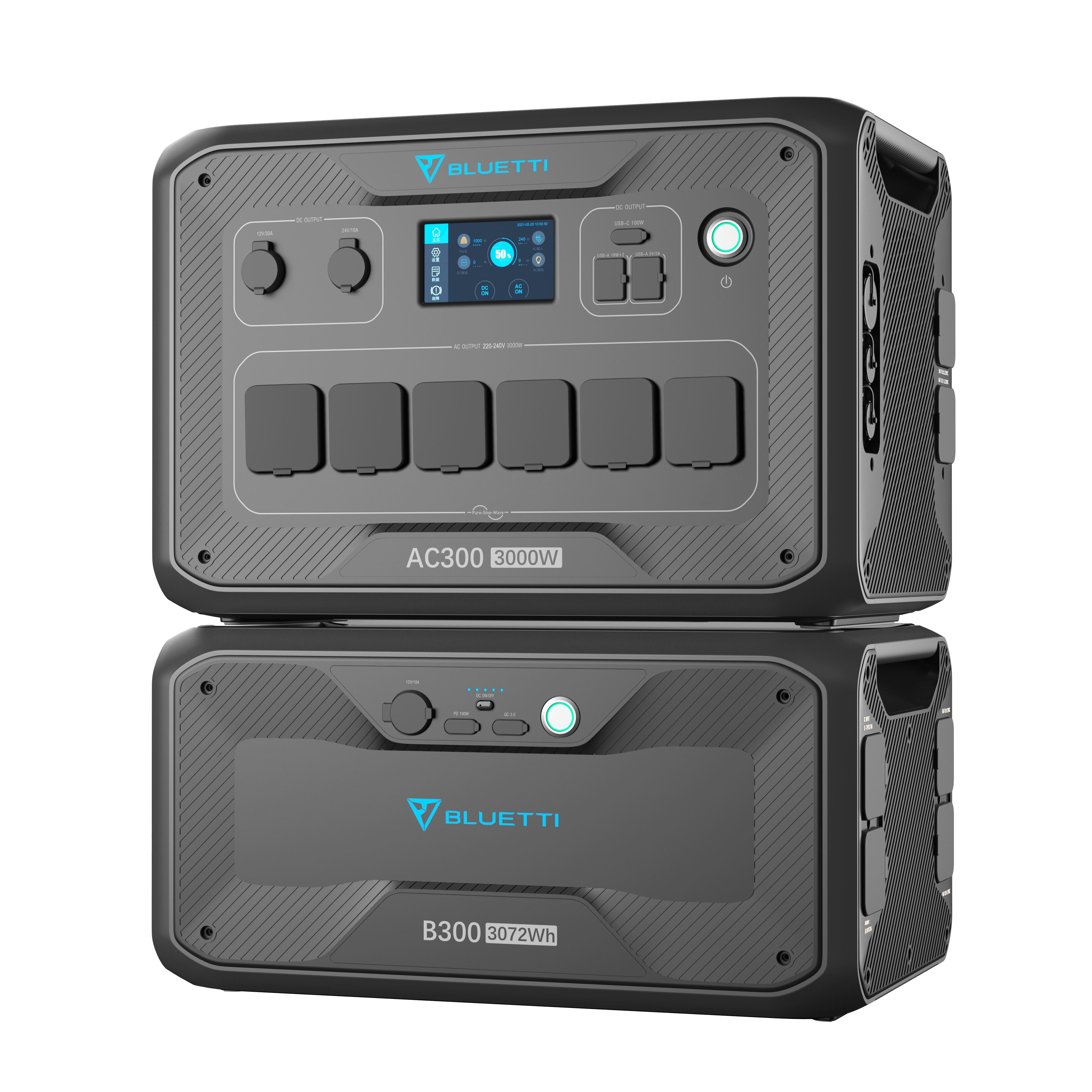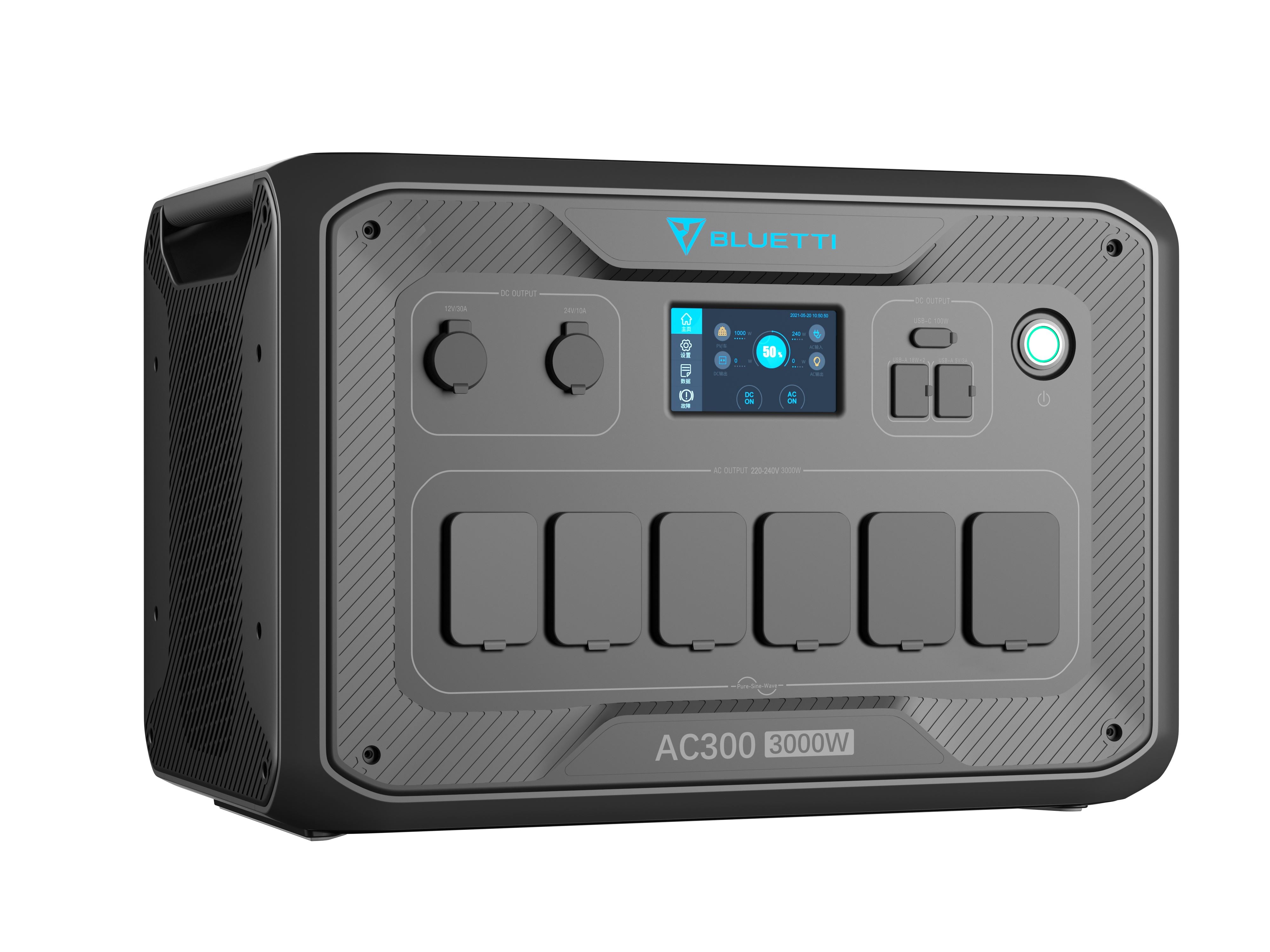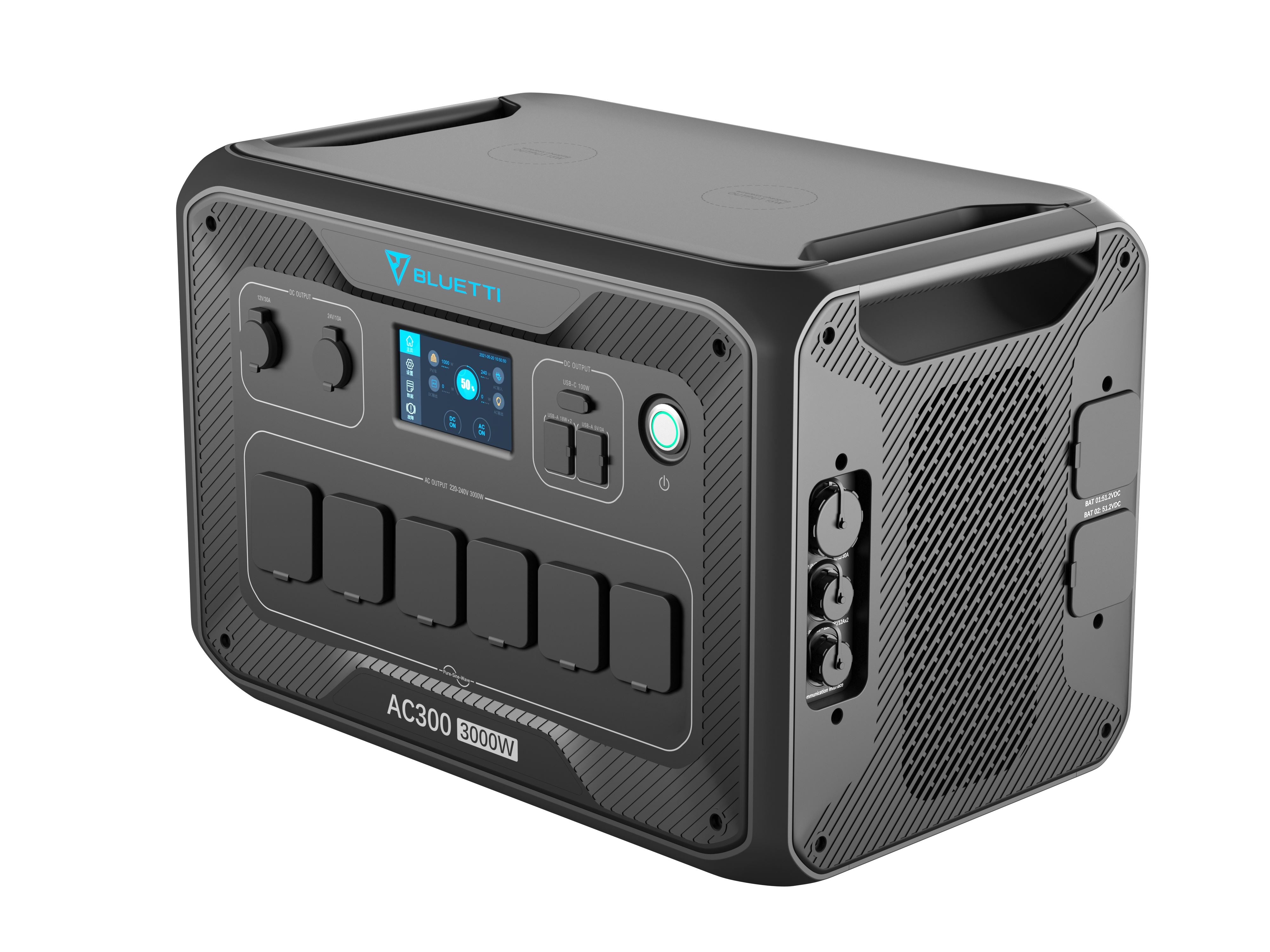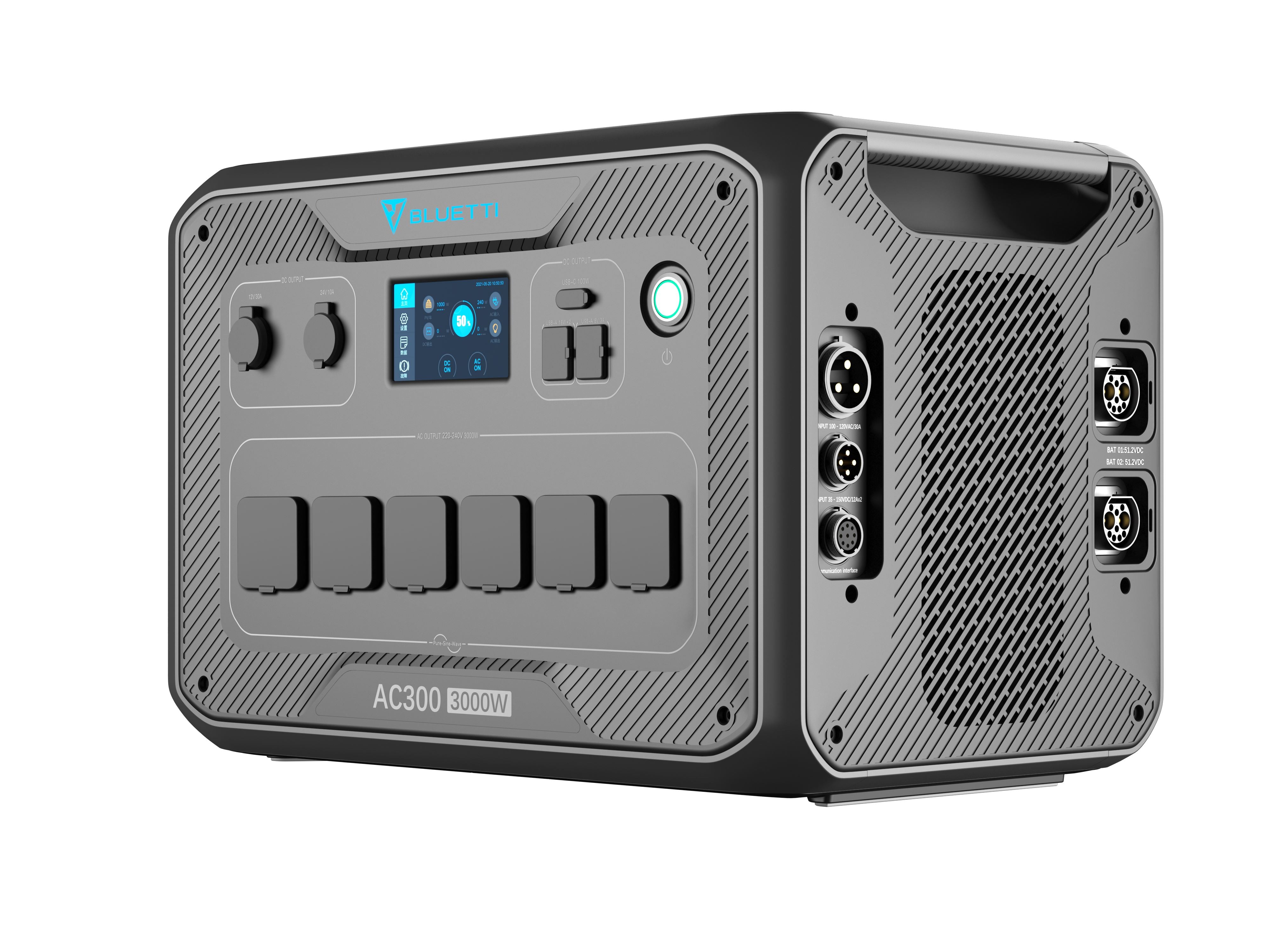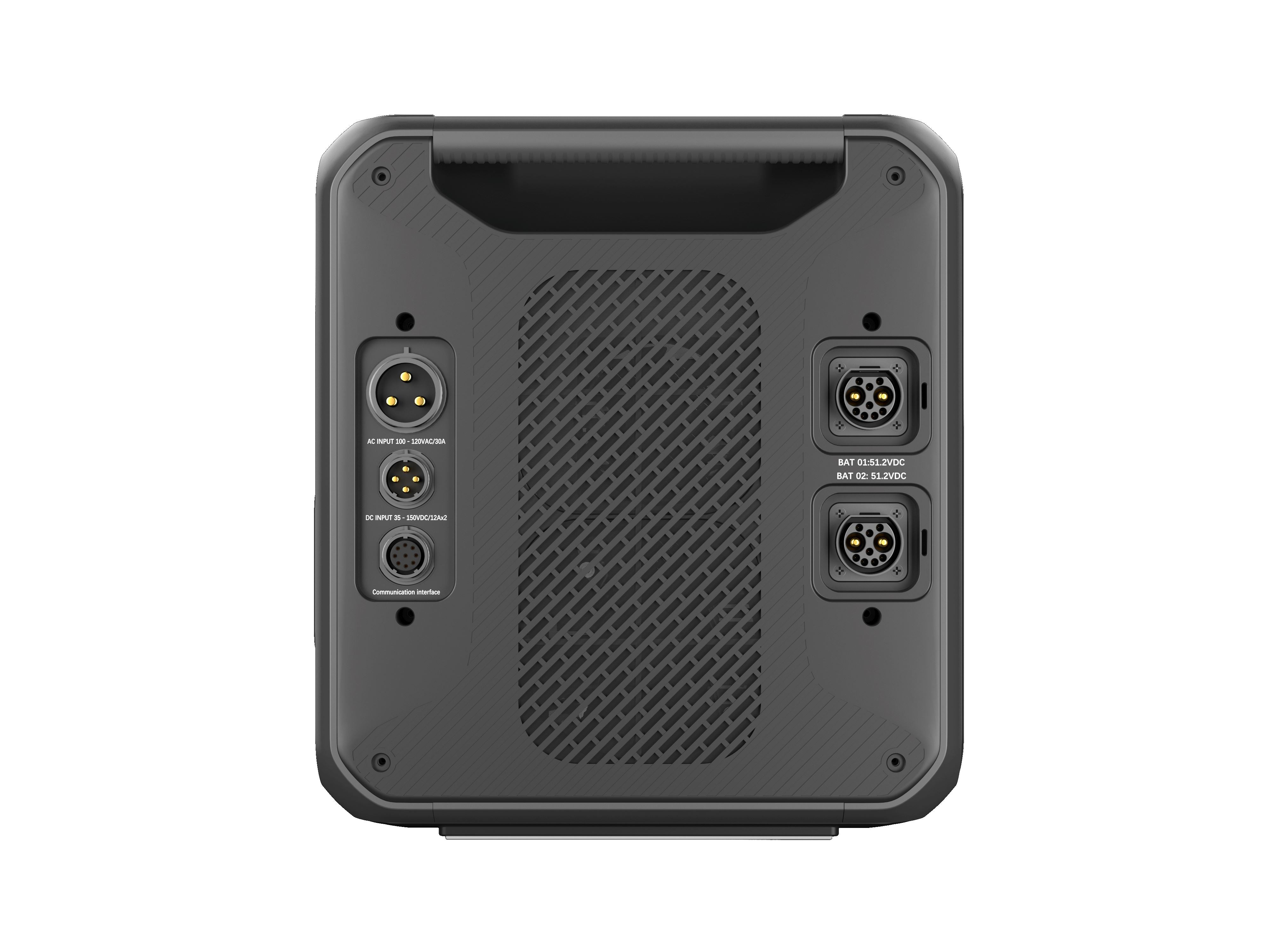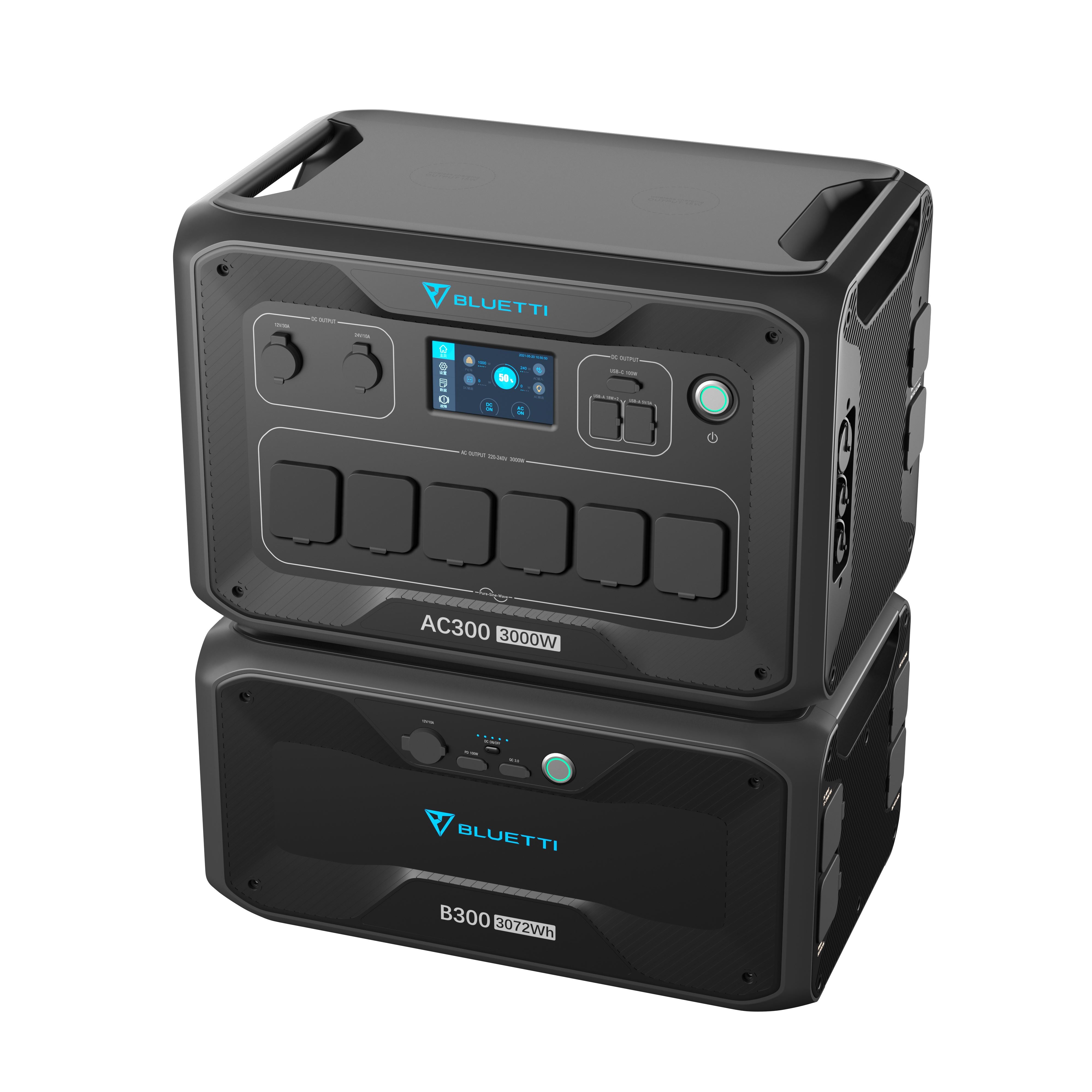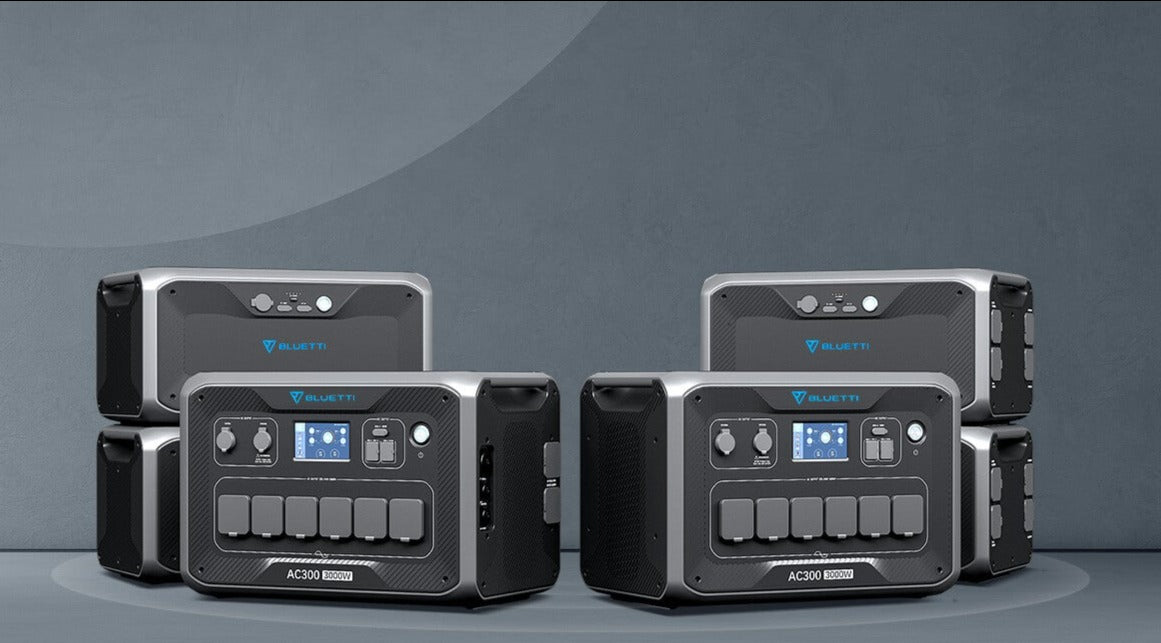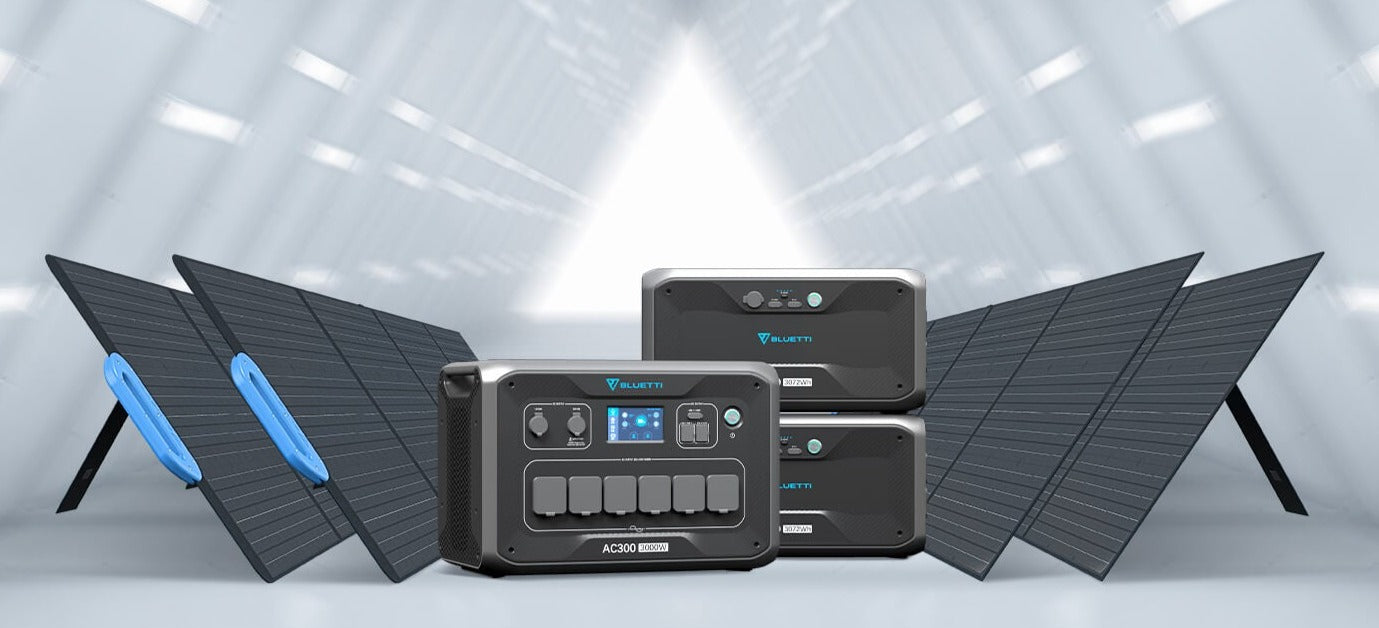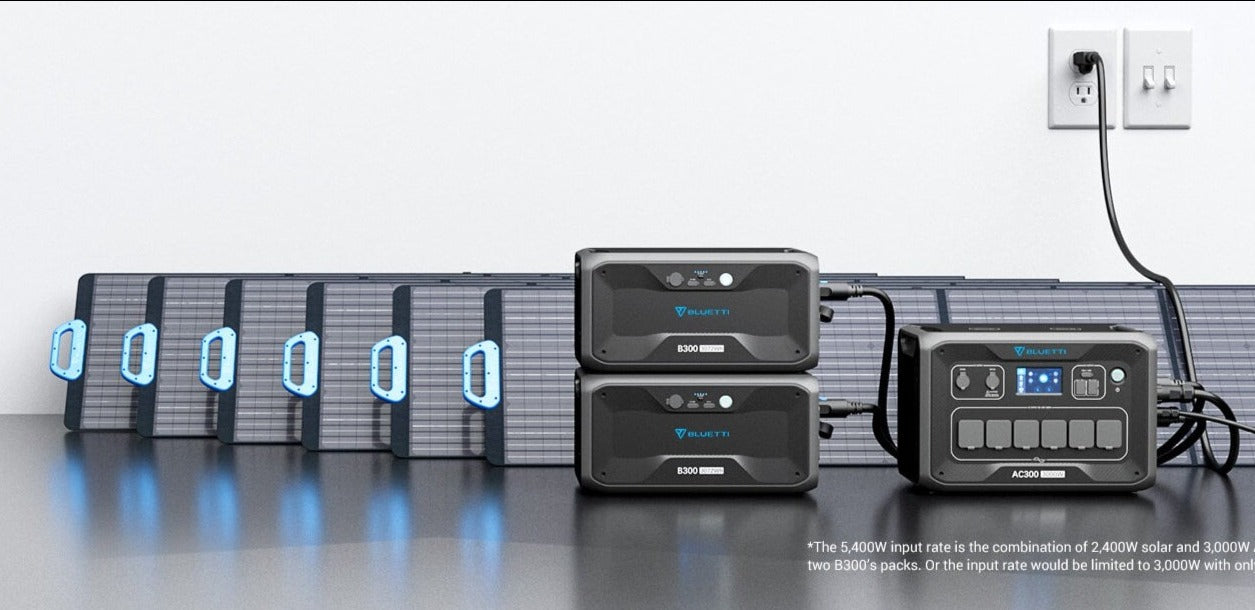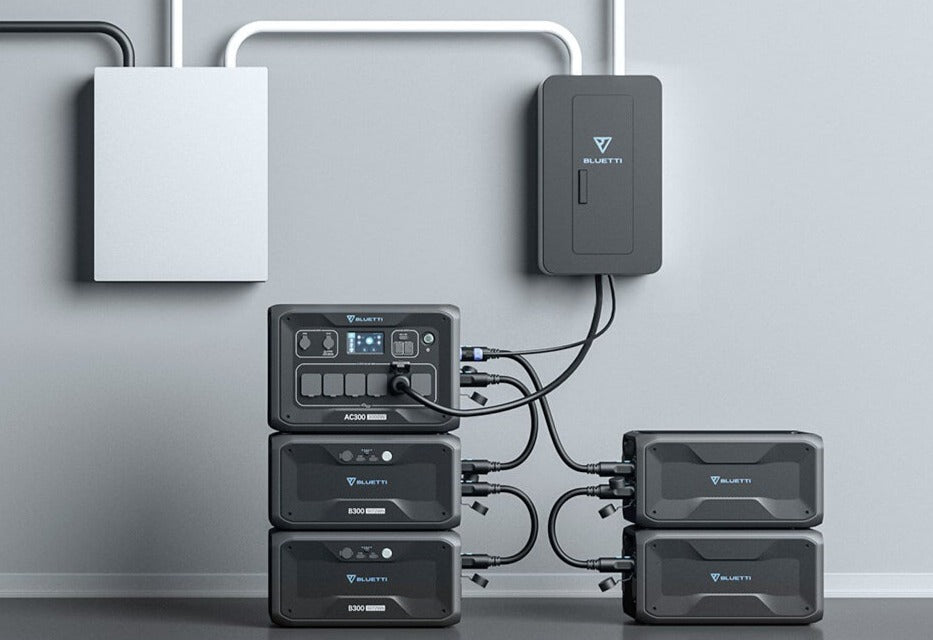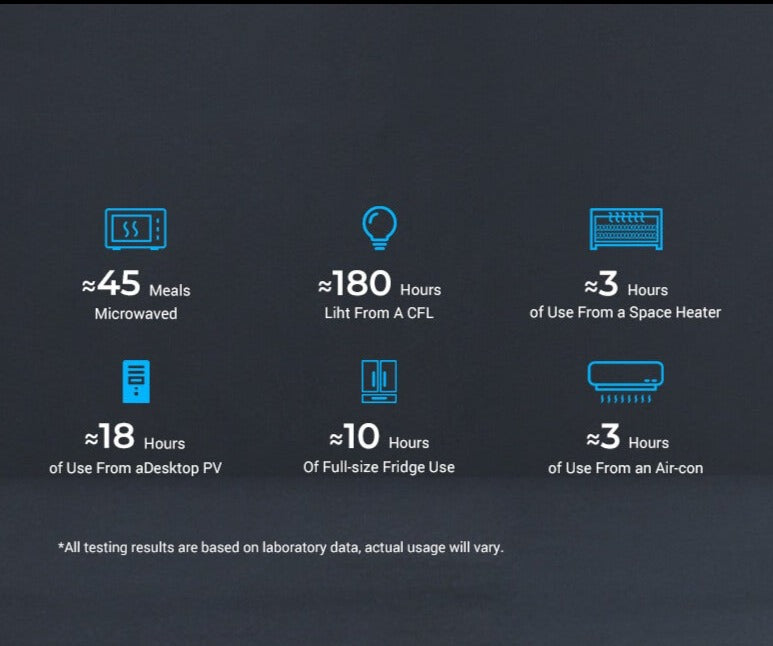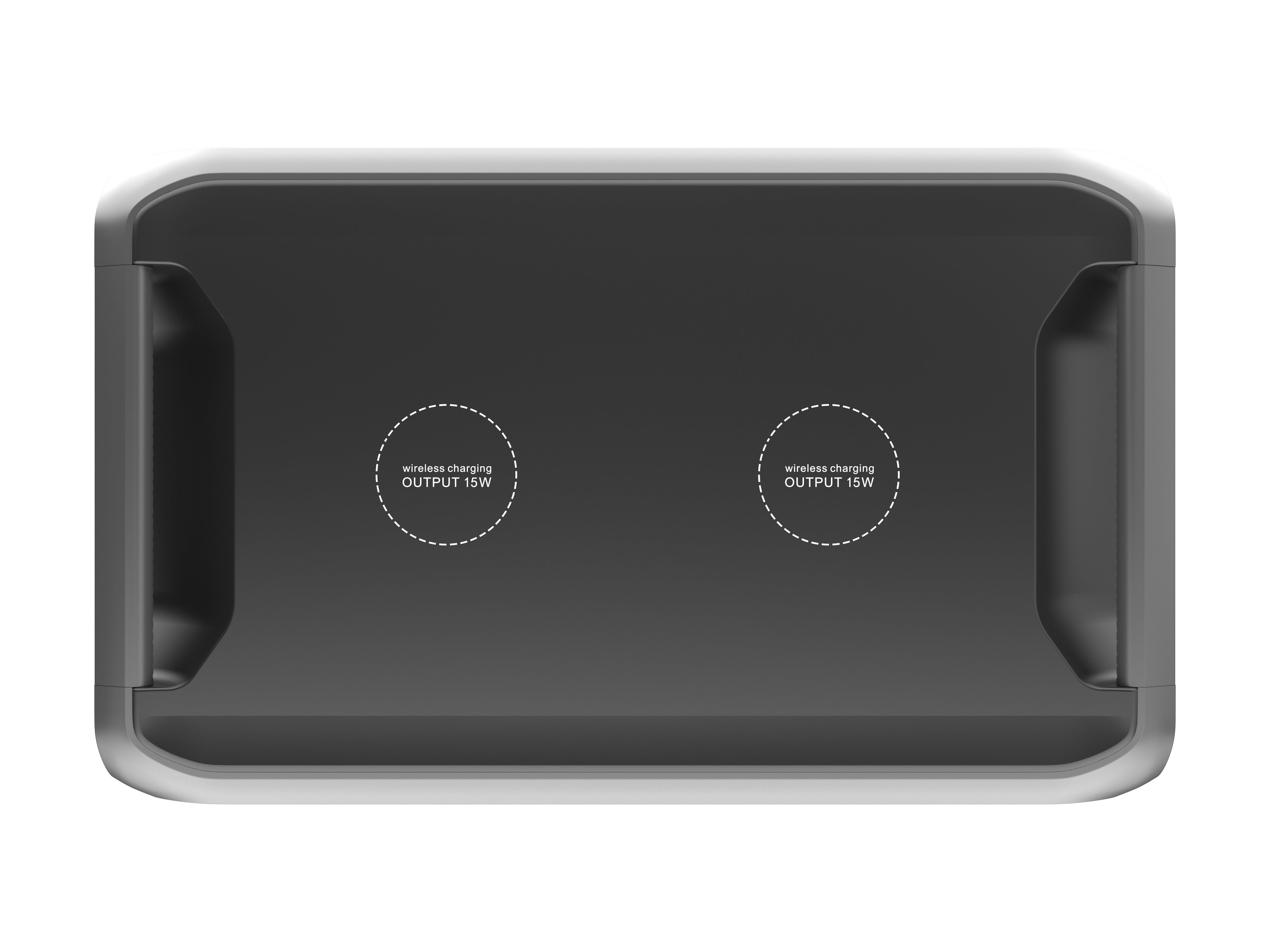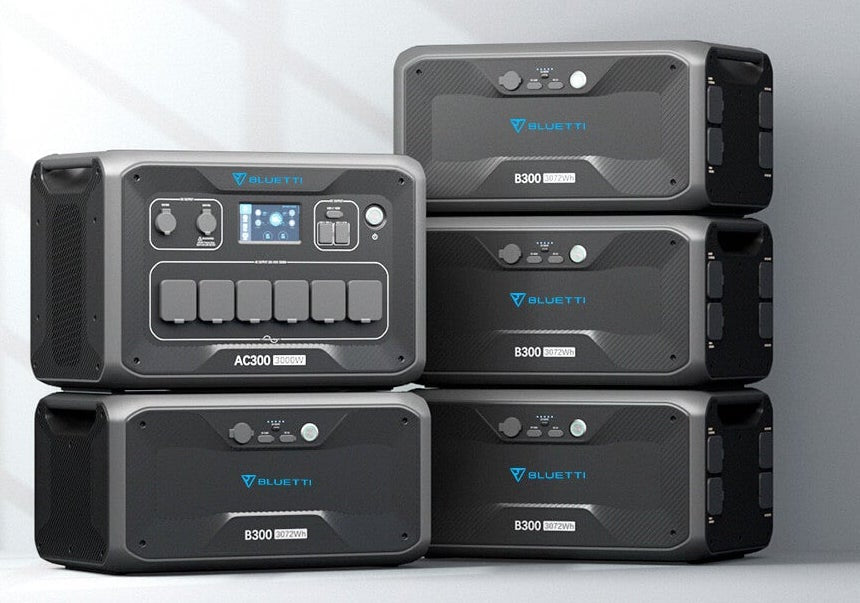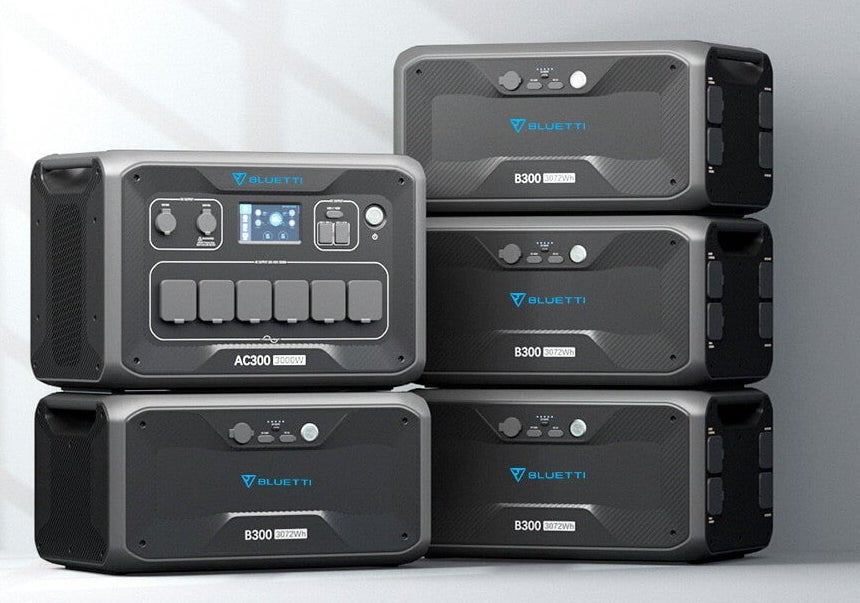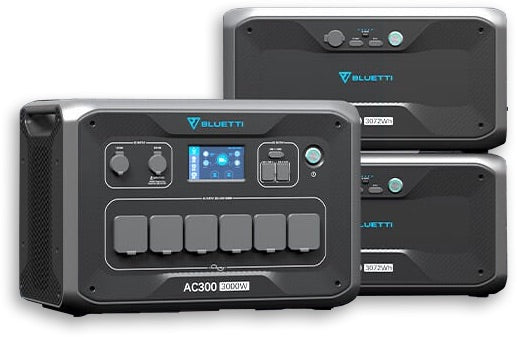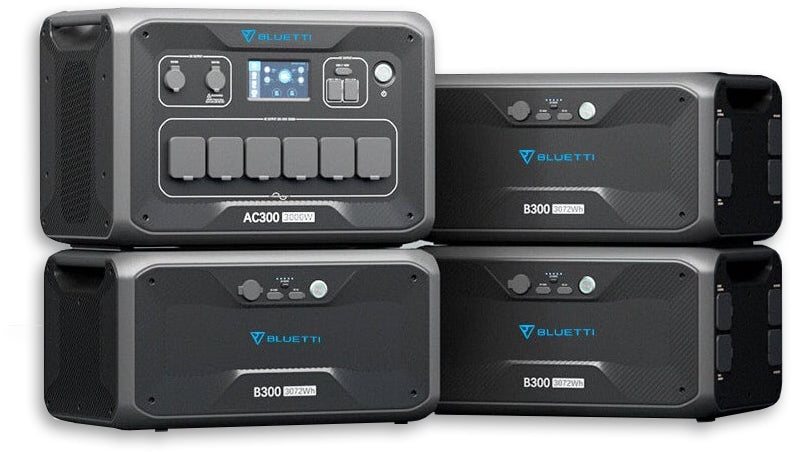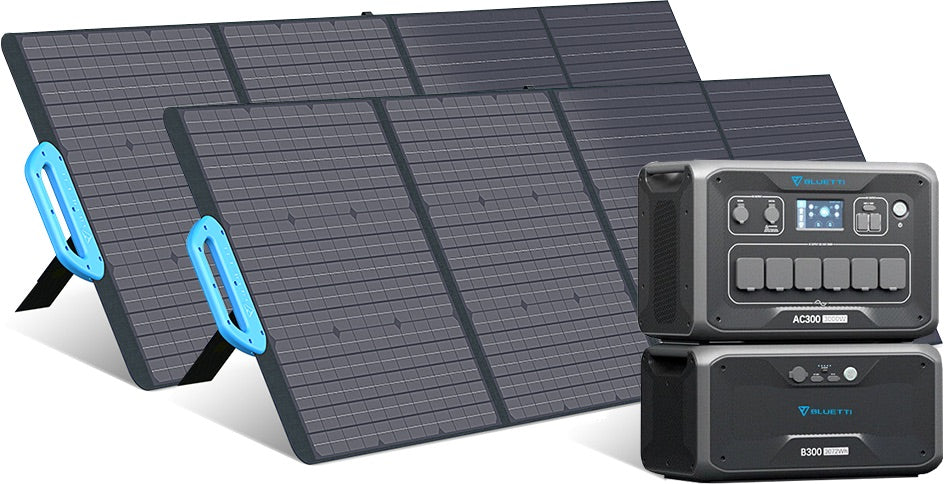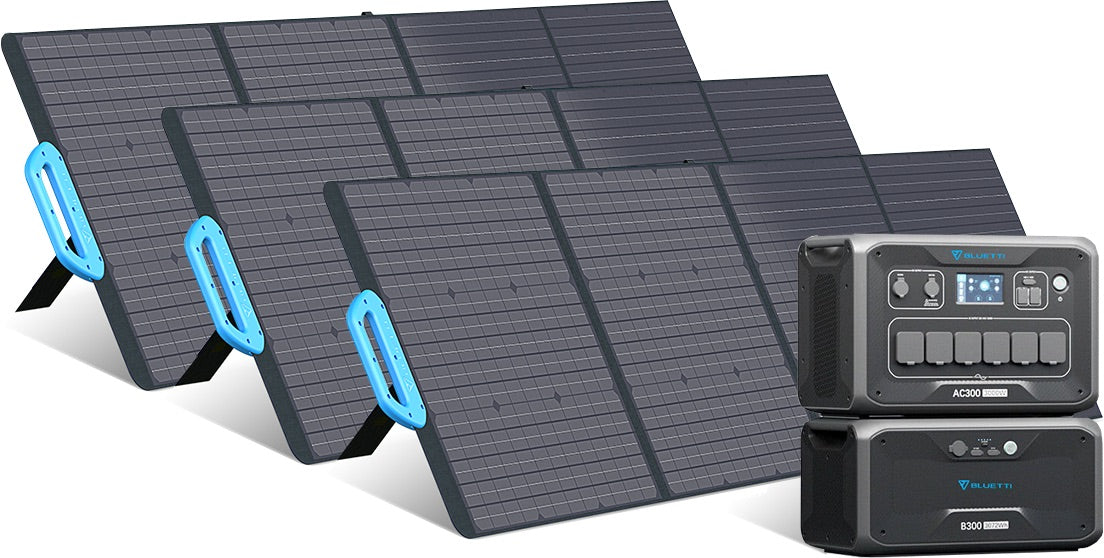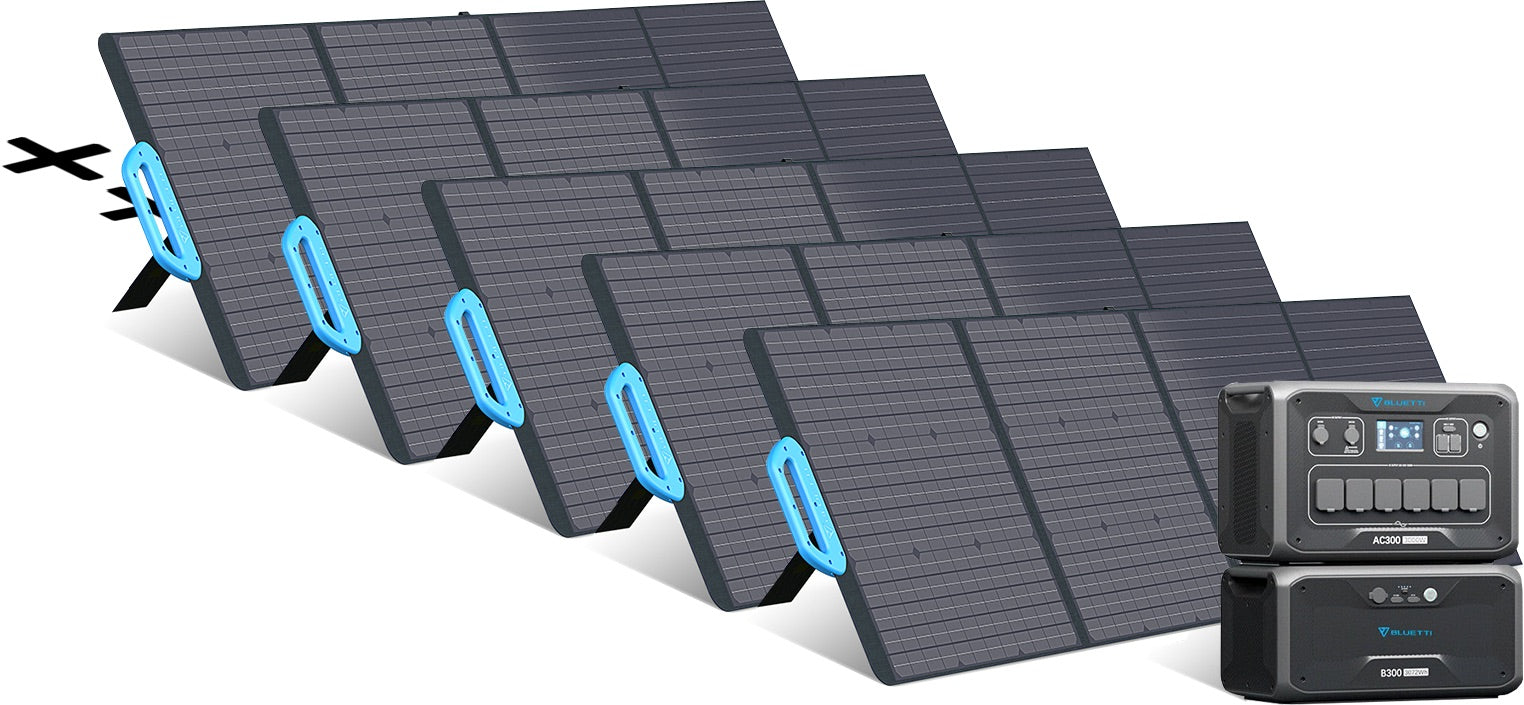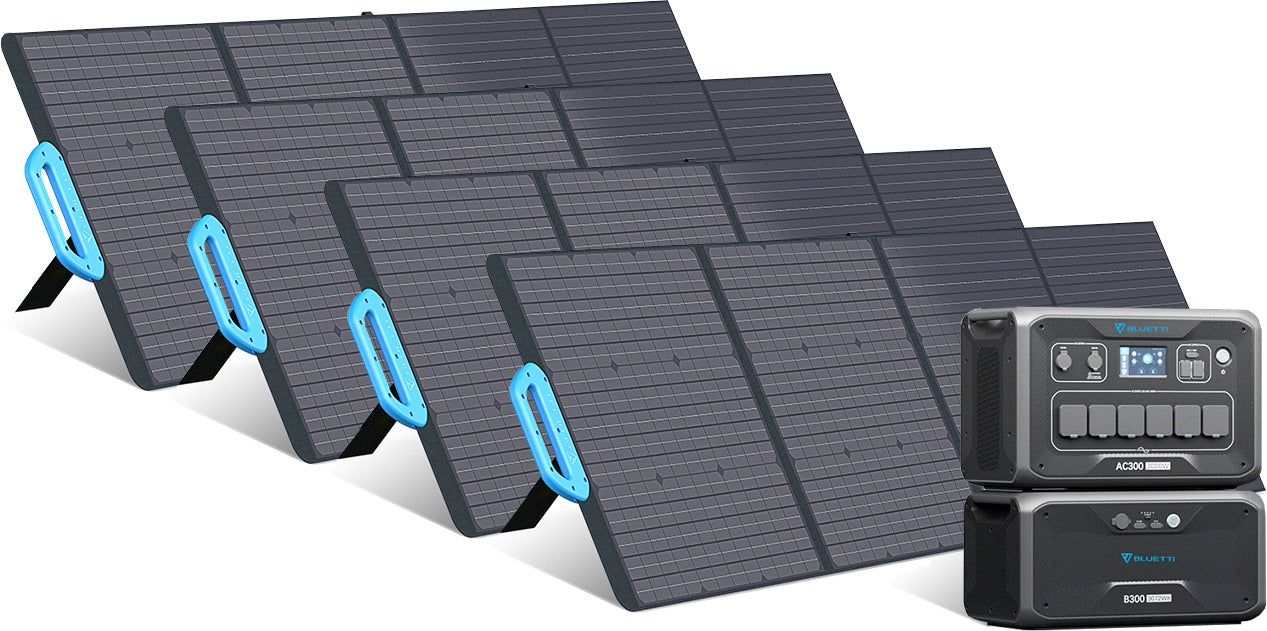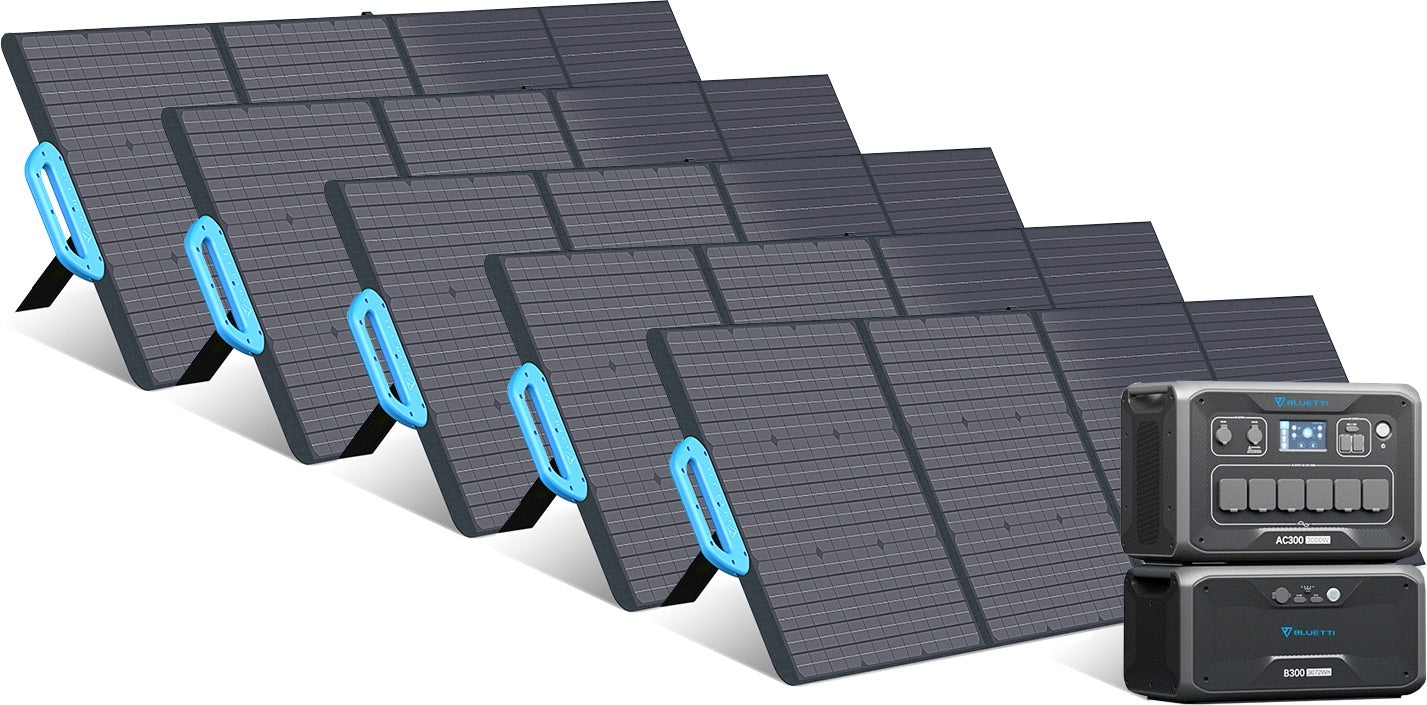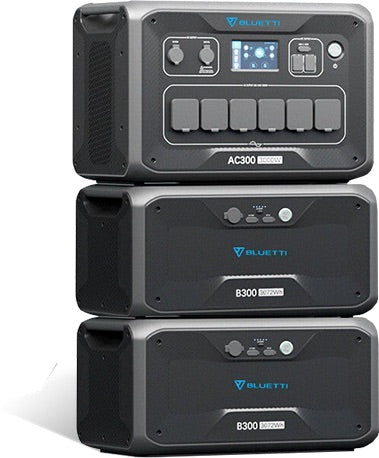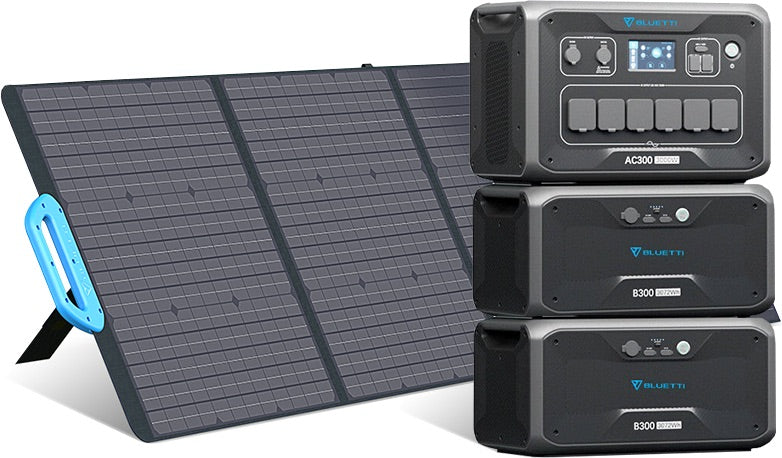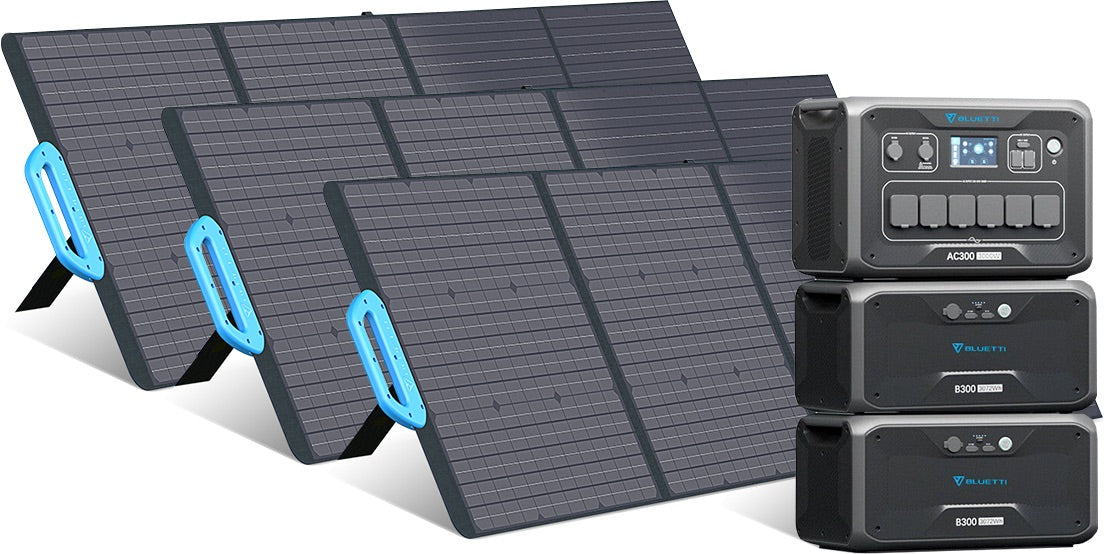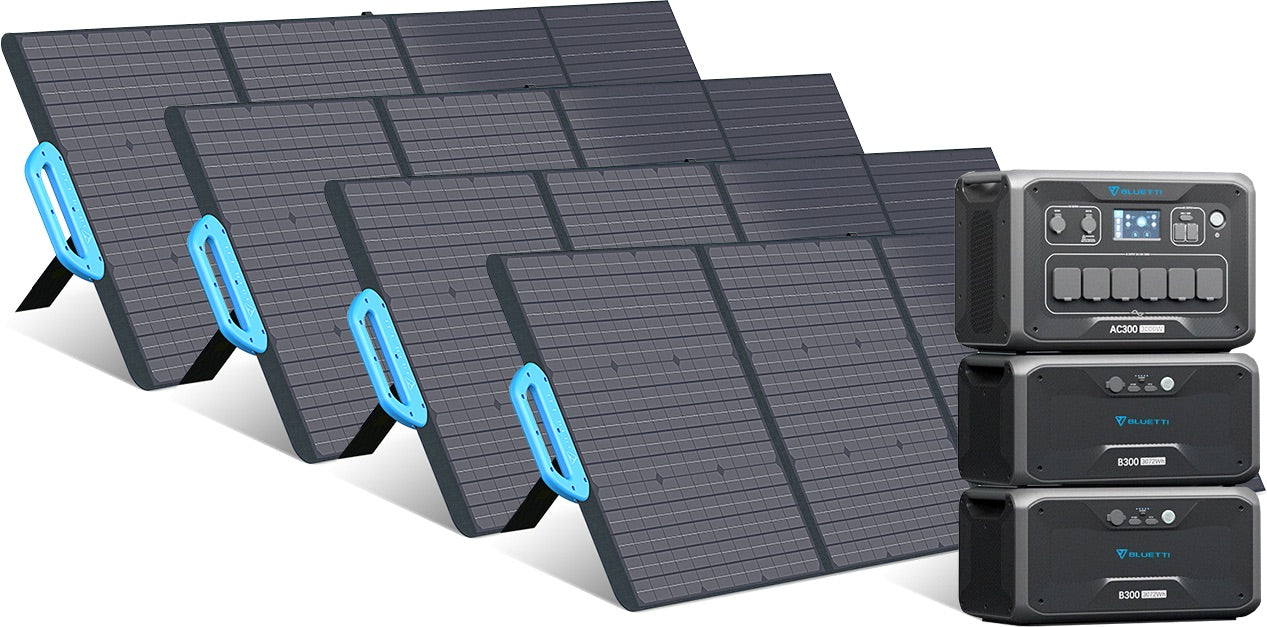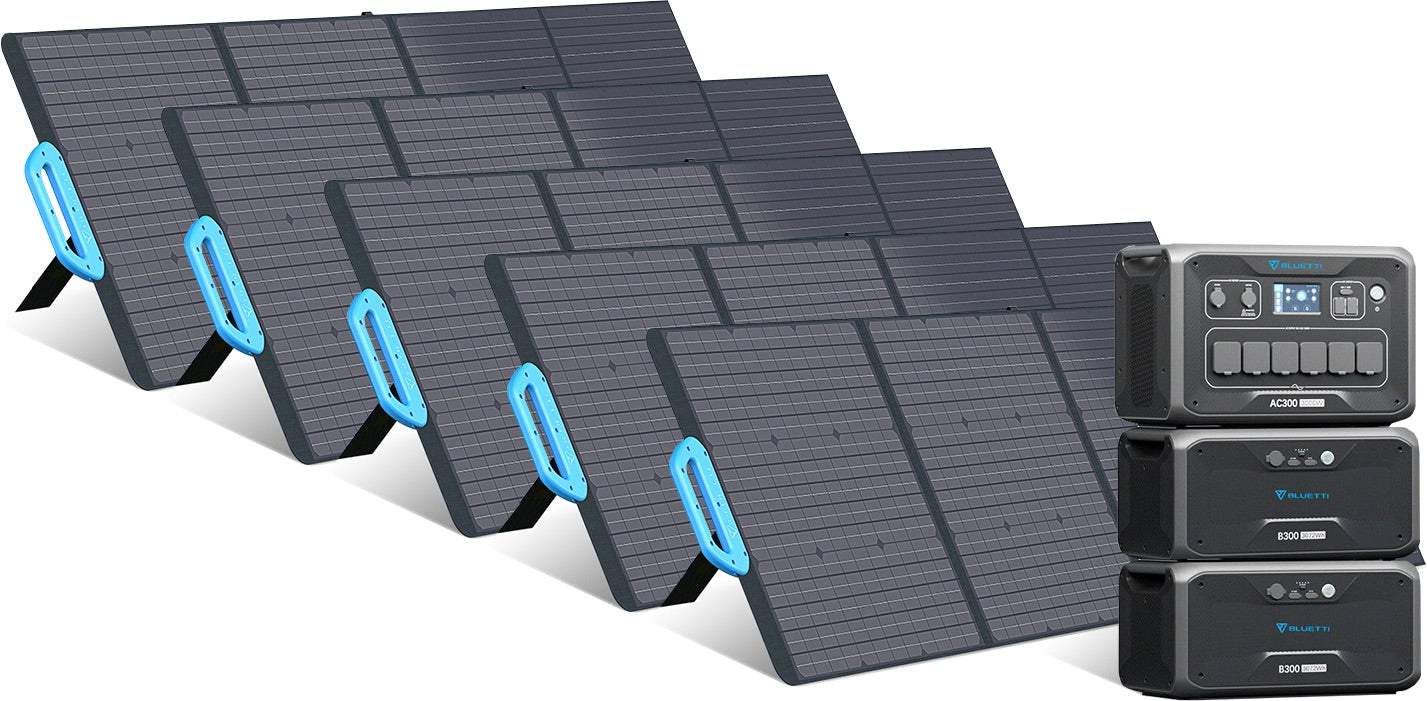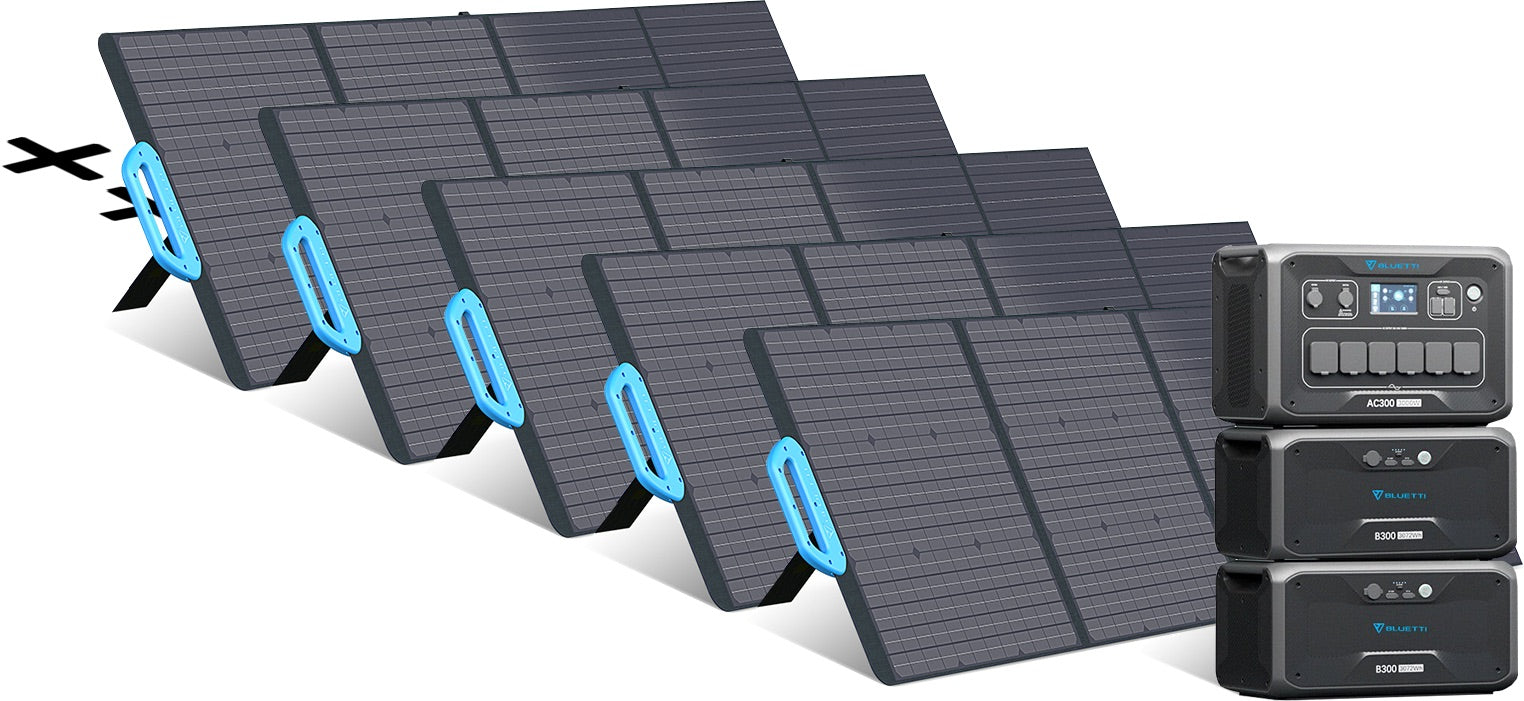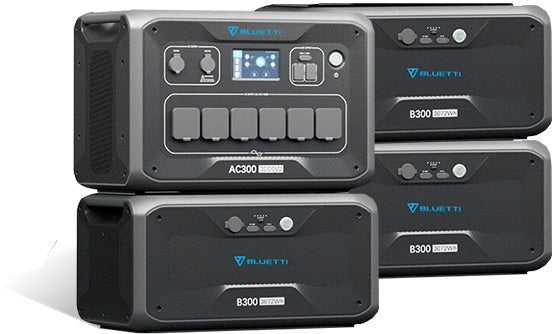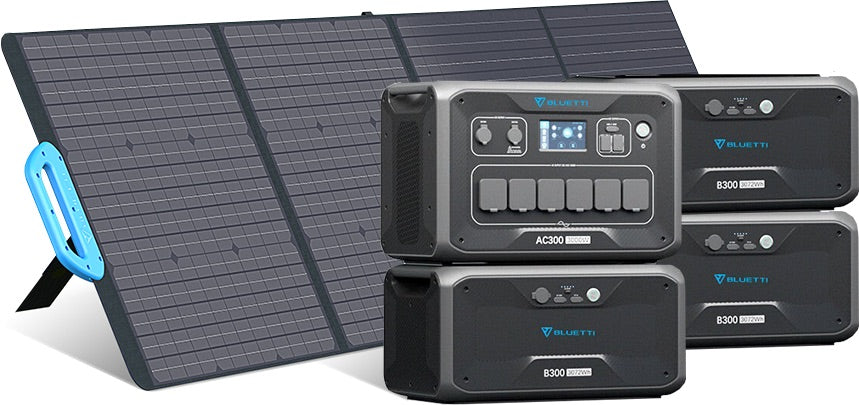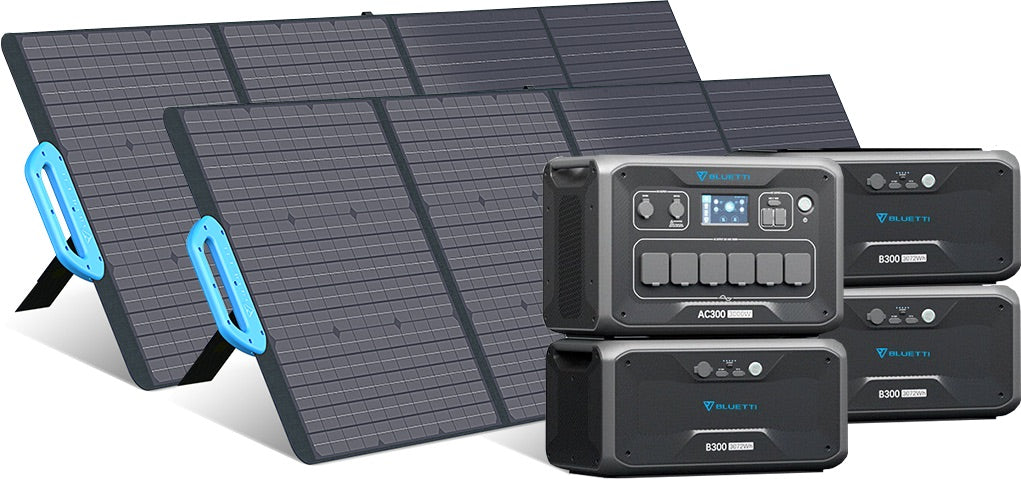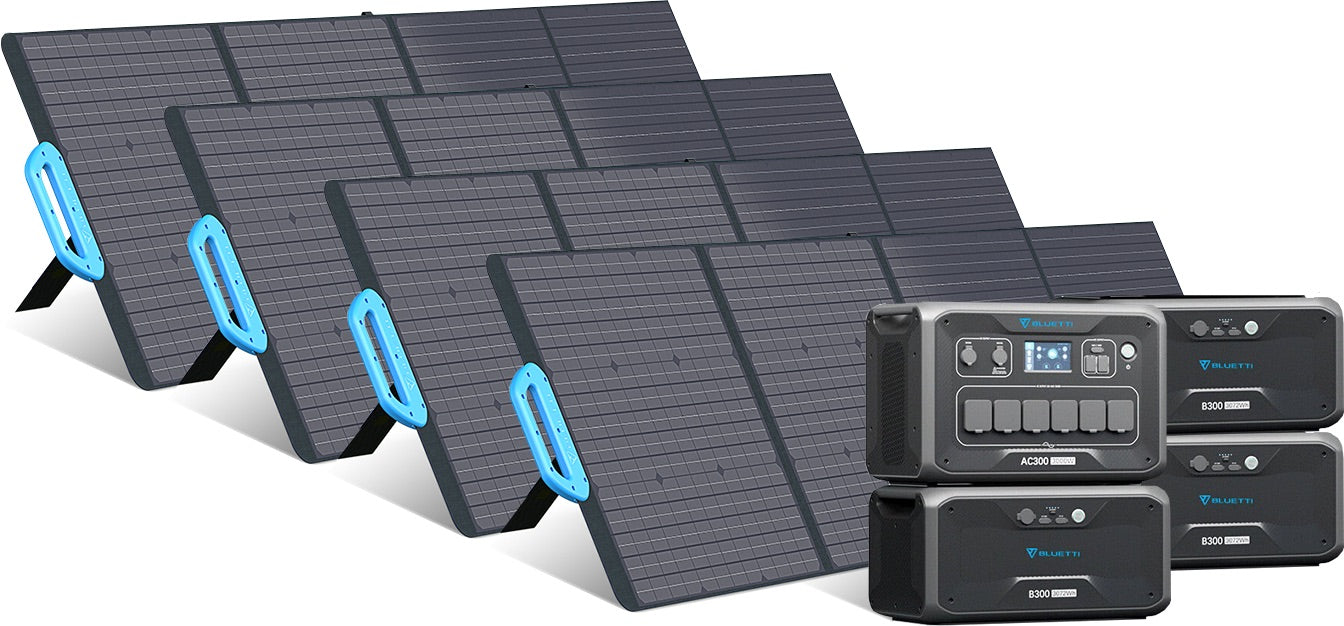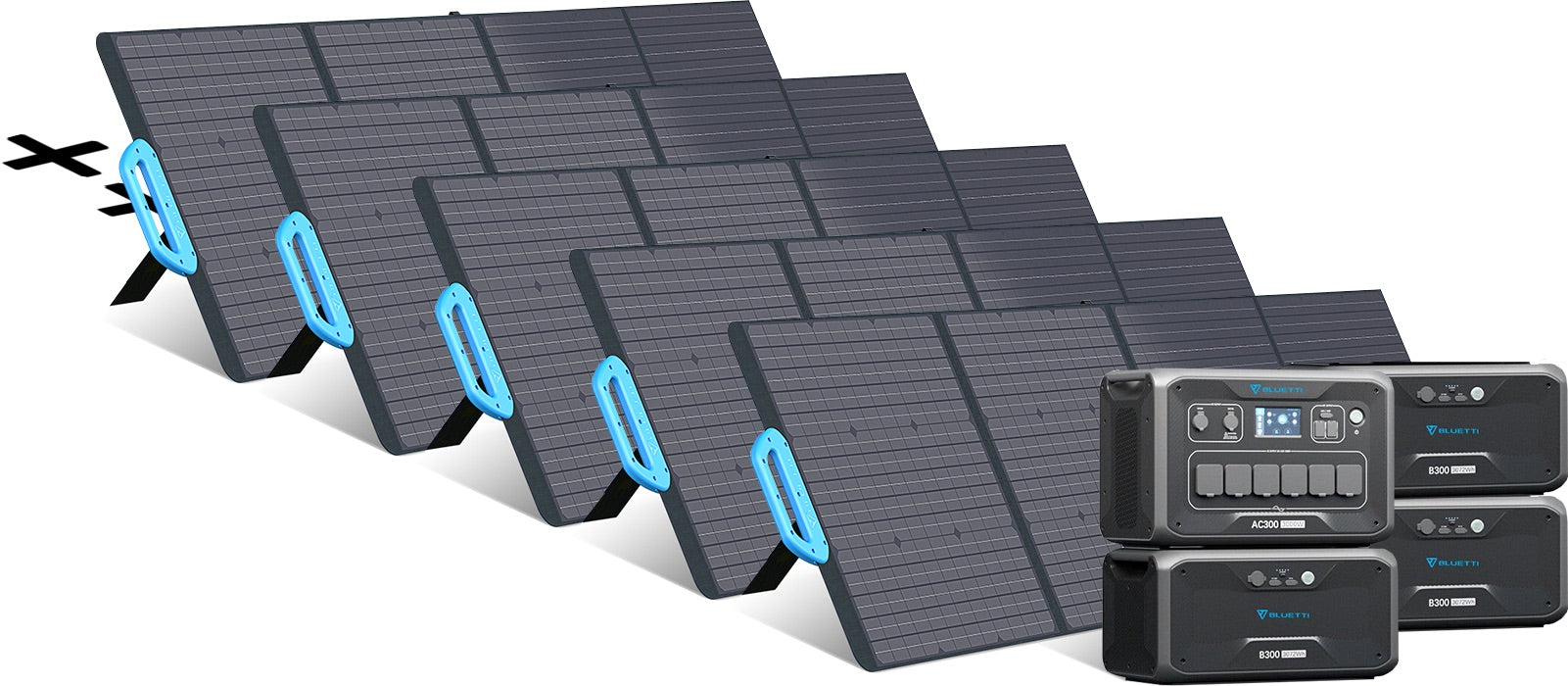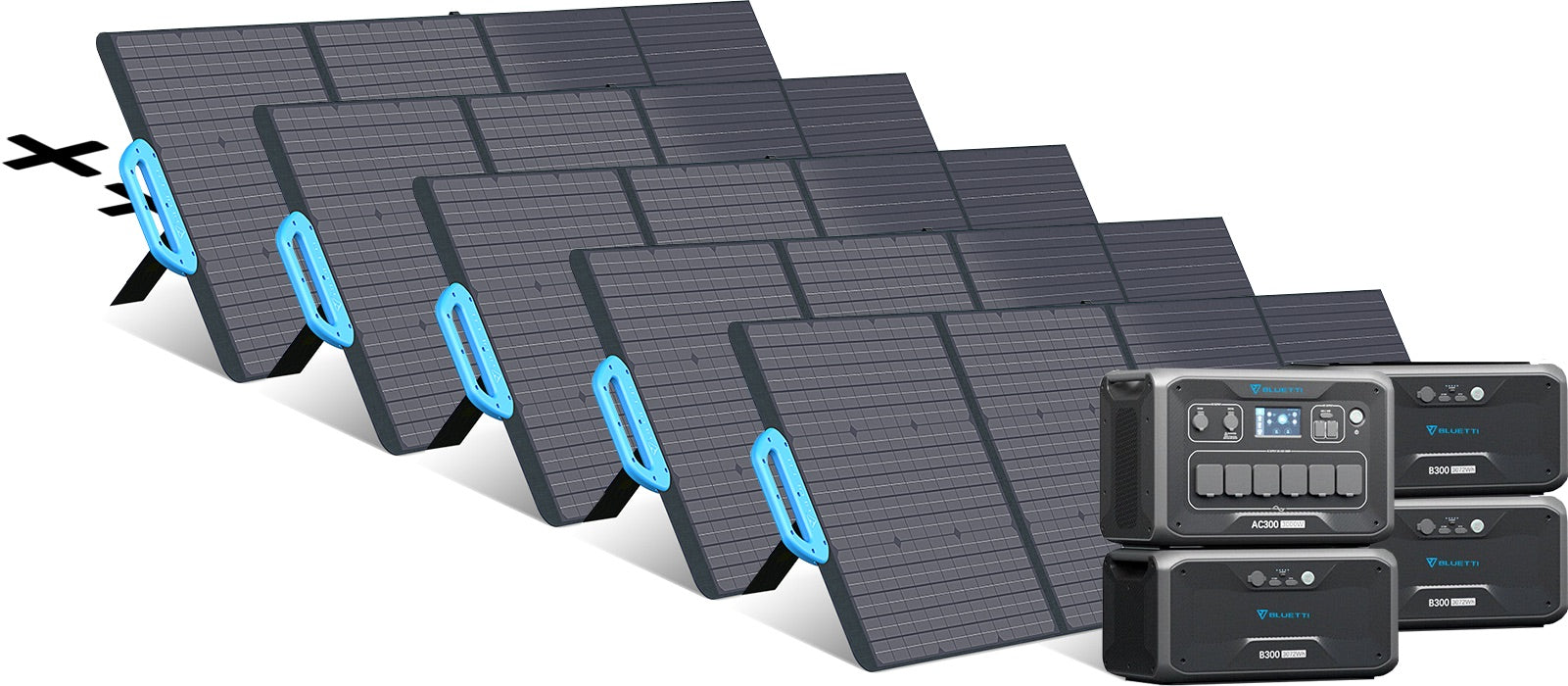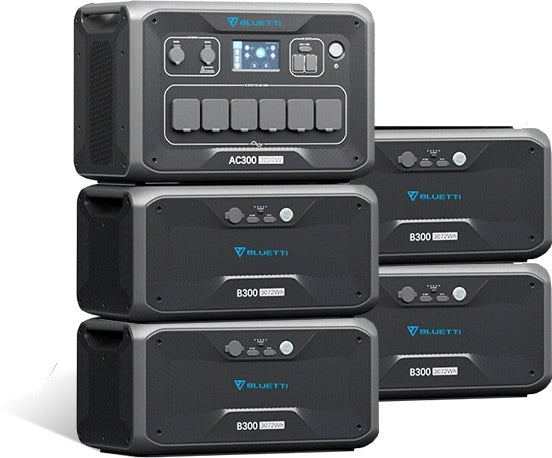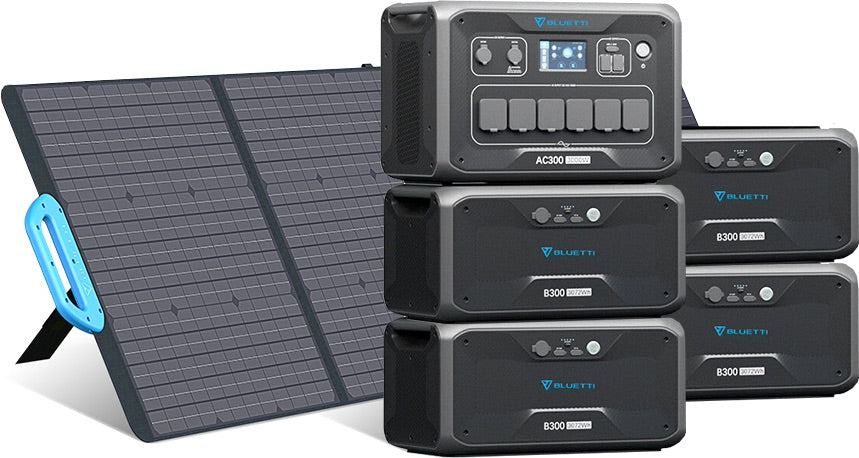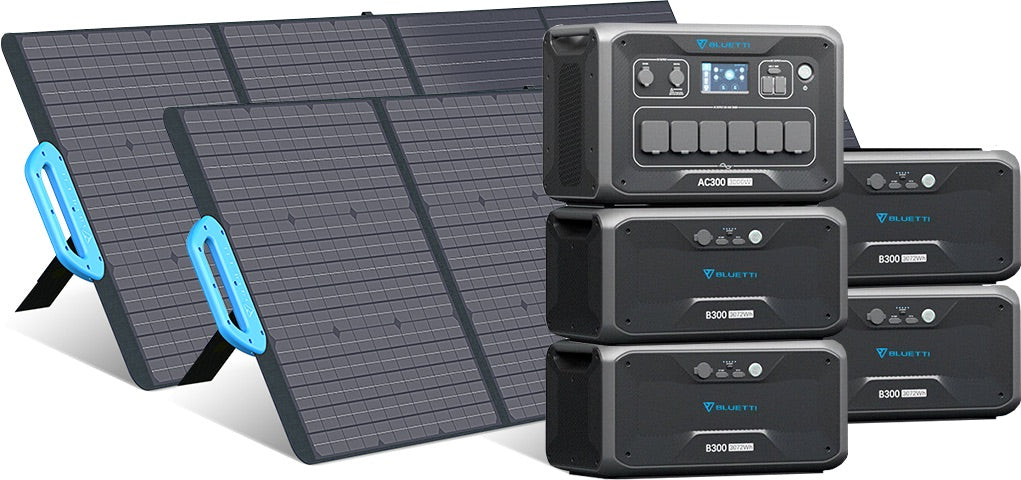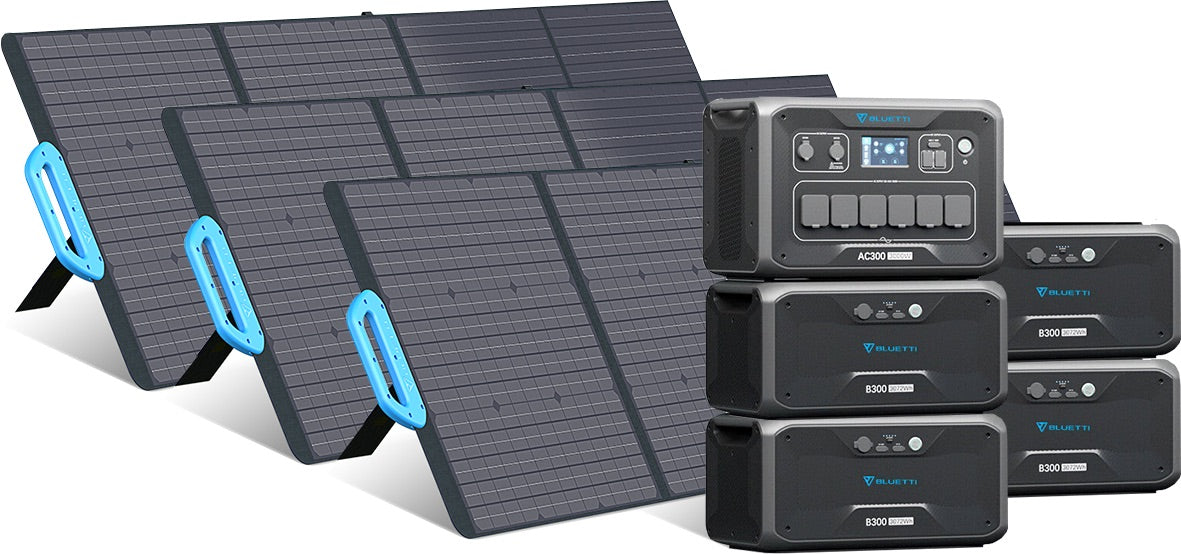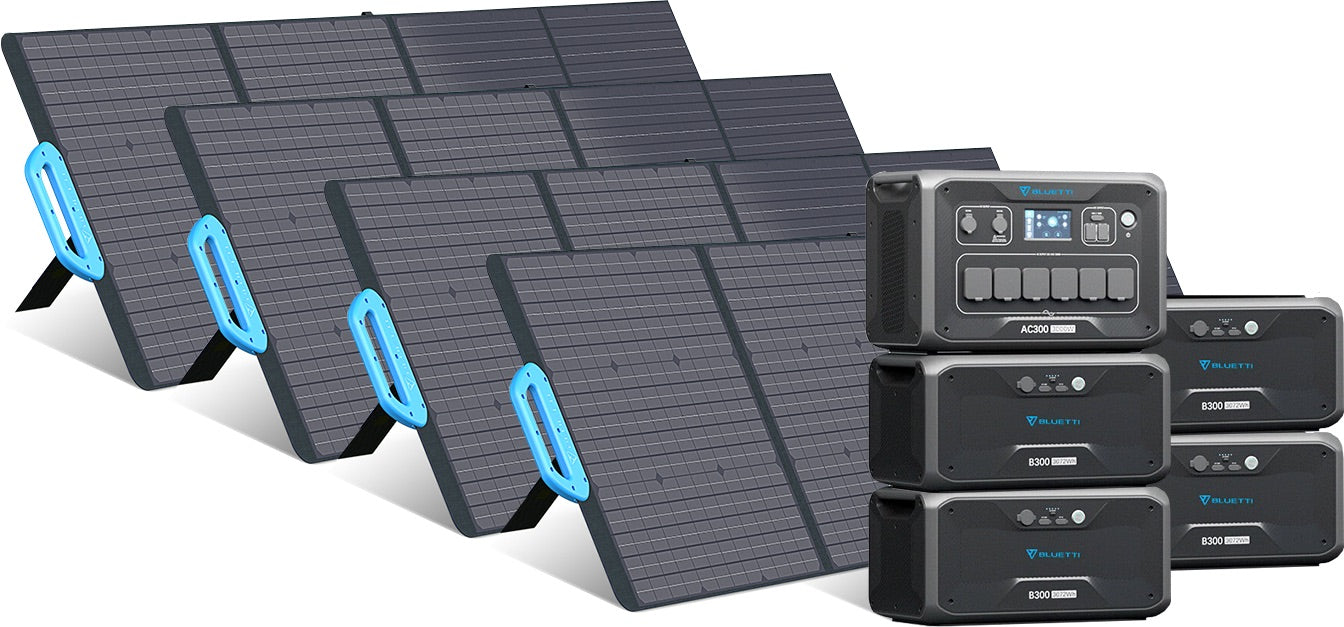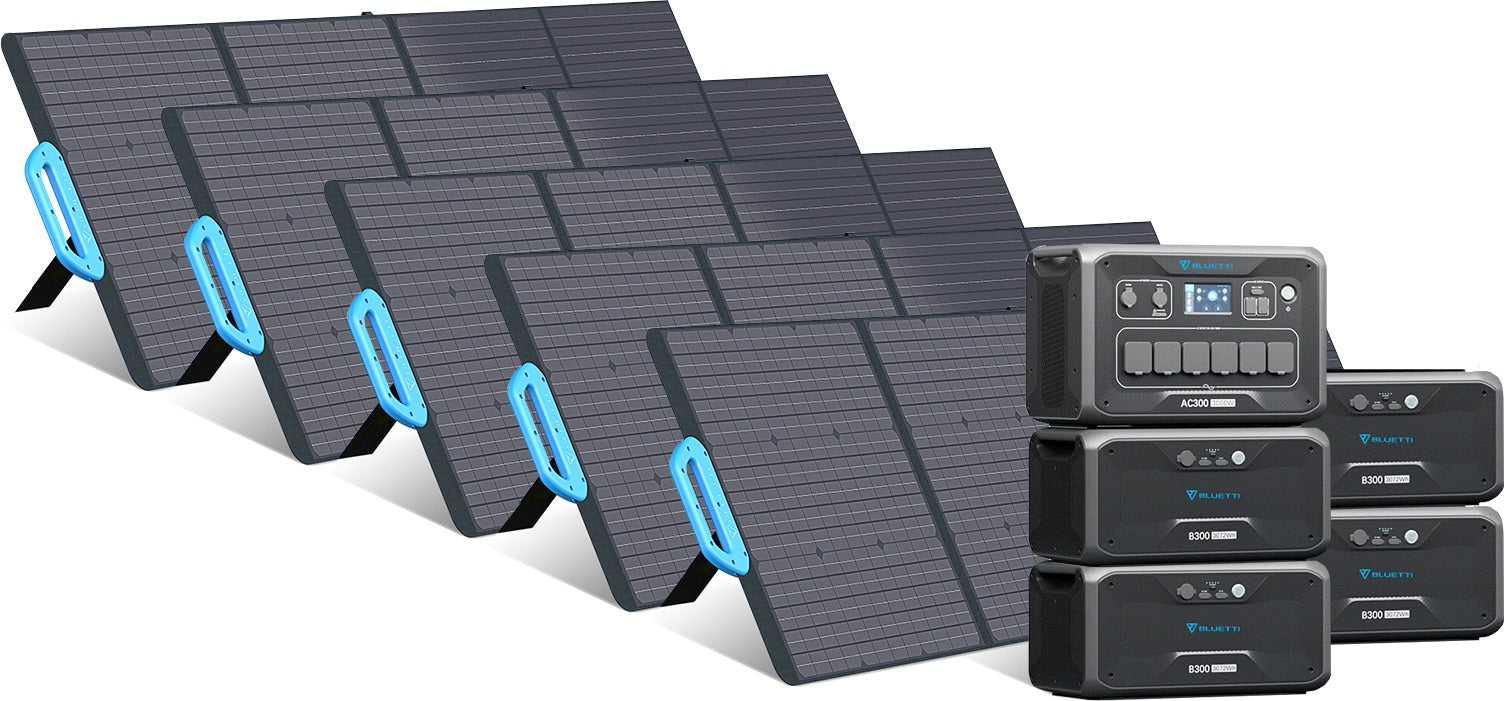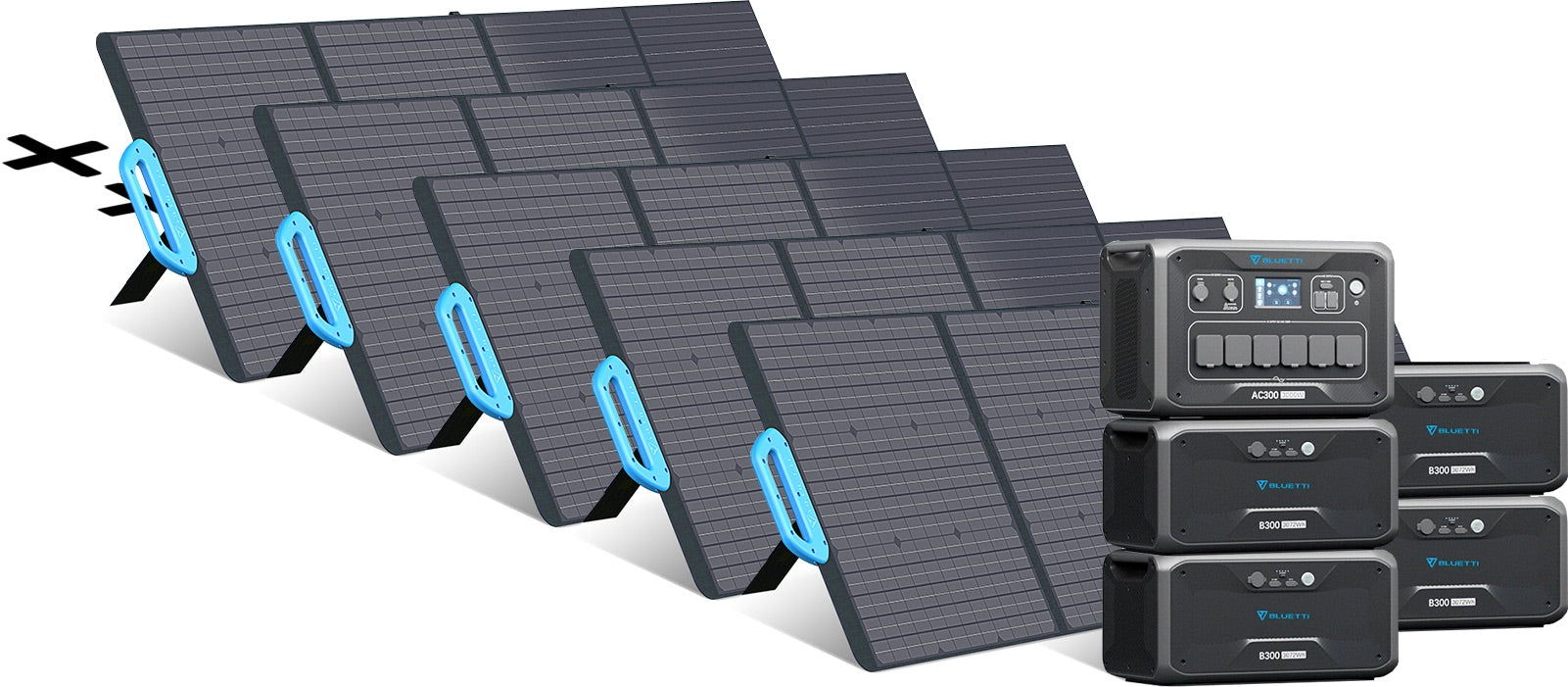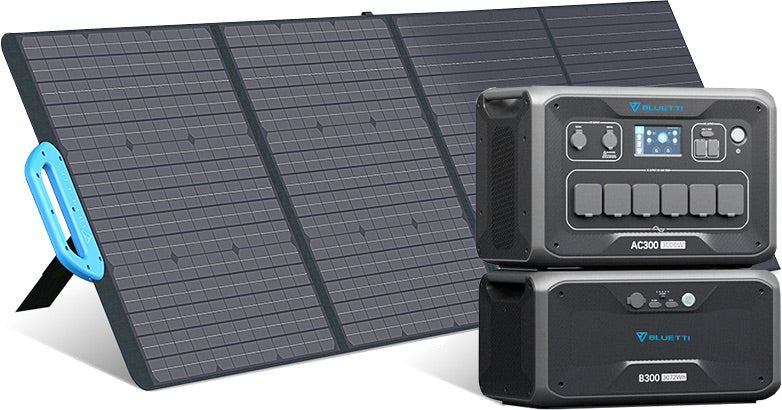 Bluetti AC300 - 3kWh-12.3kWh - 3'000W Expandable Solar Generator
SUNSLICE® - OFFICIAL DISTRIBUTOR OF BLUETTI


BLUETTI AC300 + B300 Solar Power Station
  
100% modular, accept up to 4 x B300 Capacity Modules (up to 12'288Wh)
  
2400 Watts Solar Input
  
3000 Watts Pure Sine Wave Inverter
  
5400 Watts Outstanding Input Charging Rate
  
24/7 UPS Home Backup
  
Expand Your Power At Will with Bluetti B300 extensions
Bluetti AC300 is 100% modular and can accept up to 4xB300 (3'072Wh per pack) battery modules per unit, adding up to a total of an astonishing 12'288Wh capacity. Power your whole family basic needs for DAYS during emergencies or power outages !
2400W Solar Input
Time to plug into full-time solar life ! BLUETTI AC300 is now capable of receiving 2'400 Watts of solar charging input. With BLUETTI's advanced MPPT controller, you can juice up a B300 (3,072Wh) battery module in about 1.5 hours in the sun. This will give you a complete autonomy whenever and wherever you need it.
3000W Pure Sine Wave Inverter
This powerful generator is packed with a 3000 watt pure sine wave inverter and is able to adjust the AC charging rate according to the charging device (no need for a big additional accessory, one smart charging cable will do just fine). The AC300 power system can also be charged at 1800W to 3000W via wall outlets according to your needs.
5400W Blazing Input Rate
Waiting for recharging is never a pleasure. With both the wall outlet and solar panels plugged in, the AC300 can support up to 5400W* horrendous total input rate. Plug the system in before you pack up for the camping, and your power will be ready when you are.
*The 5,400W input rate combines 2'400W solar and 3'000W AC charging, which requires at least two B300's packs. With only one B300,   the input rate is limited to 3'000W. 
24/7 UPS Home Backup
The Generator is not just for outdoor use. With BLUETTI's Smart Home Panel (optional), you can also tie the AC300 power system to your home grid and get rid of the trouble from power outages once and for all.  
  
Everything You Want, In One
  Power your home whenever power outages occur. Easy setup, Just Power On.

The capacity of 1xB300 (3072Wh) allows : 


A minimum of 1xB300 capacity battery module is needed. By adding 1 to 3 additional units, you can multiply by 4 the performances described in the image above !

B300 Capacity Module
The B300 Capacity Module does not only allow to store a big amount of energy (3'072 Wh per module), but it also will power your smartphones, laptops, fans, lights, refrigerators, microwave ovens, and so on with its specific output port : the 100W USB-C, 12V/10A cigarette lighter, and 18W USB-A output ports.
Every B300 module can also be charged by 200 Watts solar power, in addition to the 2400 Watts solar power powering the AC300 main module. 

Never Run Out of Power
Suitable for various occasions
Full Review of the Bluetti AC300 + B300
by Hobotech
Download the user manual here
Worldwide free shipping
We use by default BPost International for European shipping. Delivery time is usually 3-5 working days.
You can also choose for UPS or GLS shipping in order to get your package faster. Rates our calculated at the checkout.

NB: For Countries outside EU buying items ex. VAT, be aware you have to pay import taxes according to the laws of that specific country. In case of returns, we are not able to return any duties or taxes, as this is paid to and handled directly between you (the customer) and your country.
Return policy
If you want to change a product into another size, color etc, please contact us so we are able to reserve the new item in our stock immediately. You are always entitled to an exchange or refund within 14 days after you have received your package, as long as the item has not been used. All original packaging, price labels etc. shall be returned with the product without having been tampered with.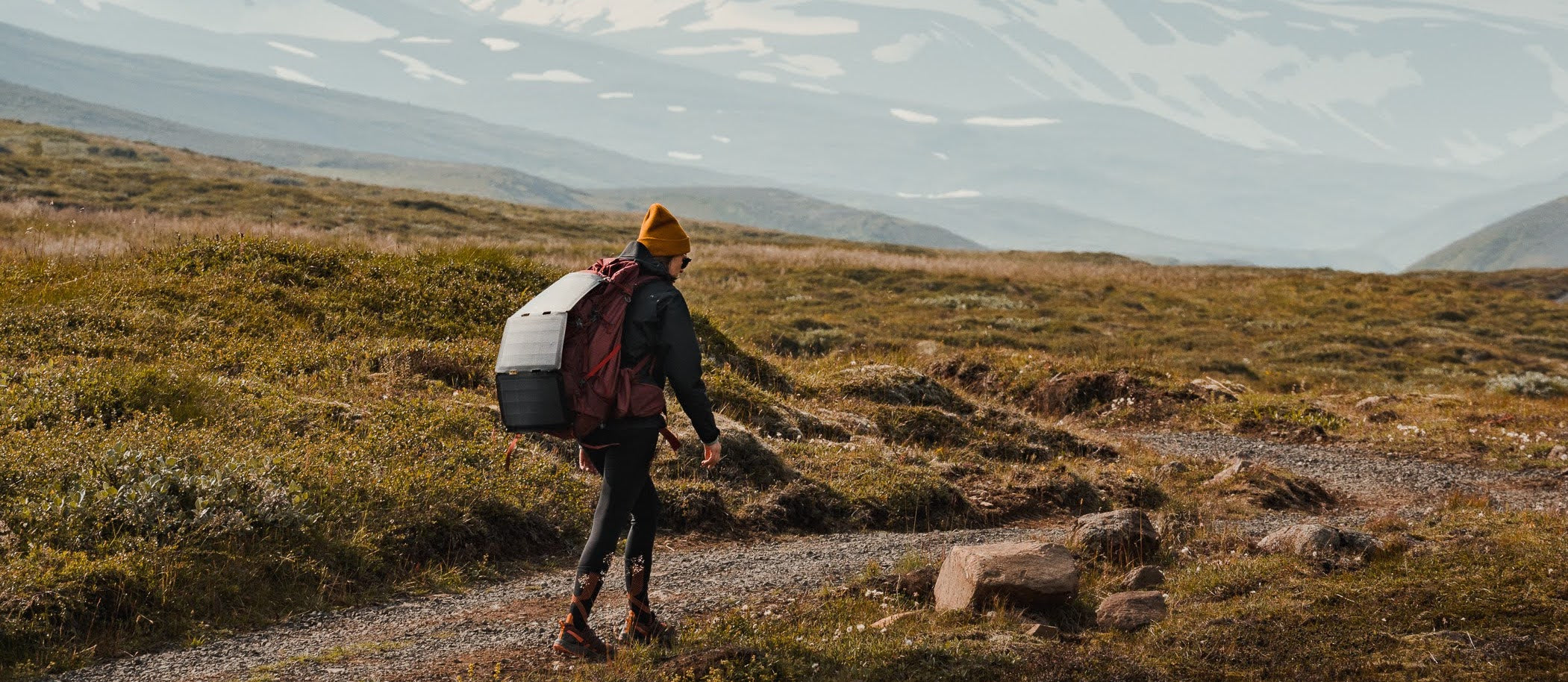 NOT FOUND WHAT YOU ARE LOOKING FOR