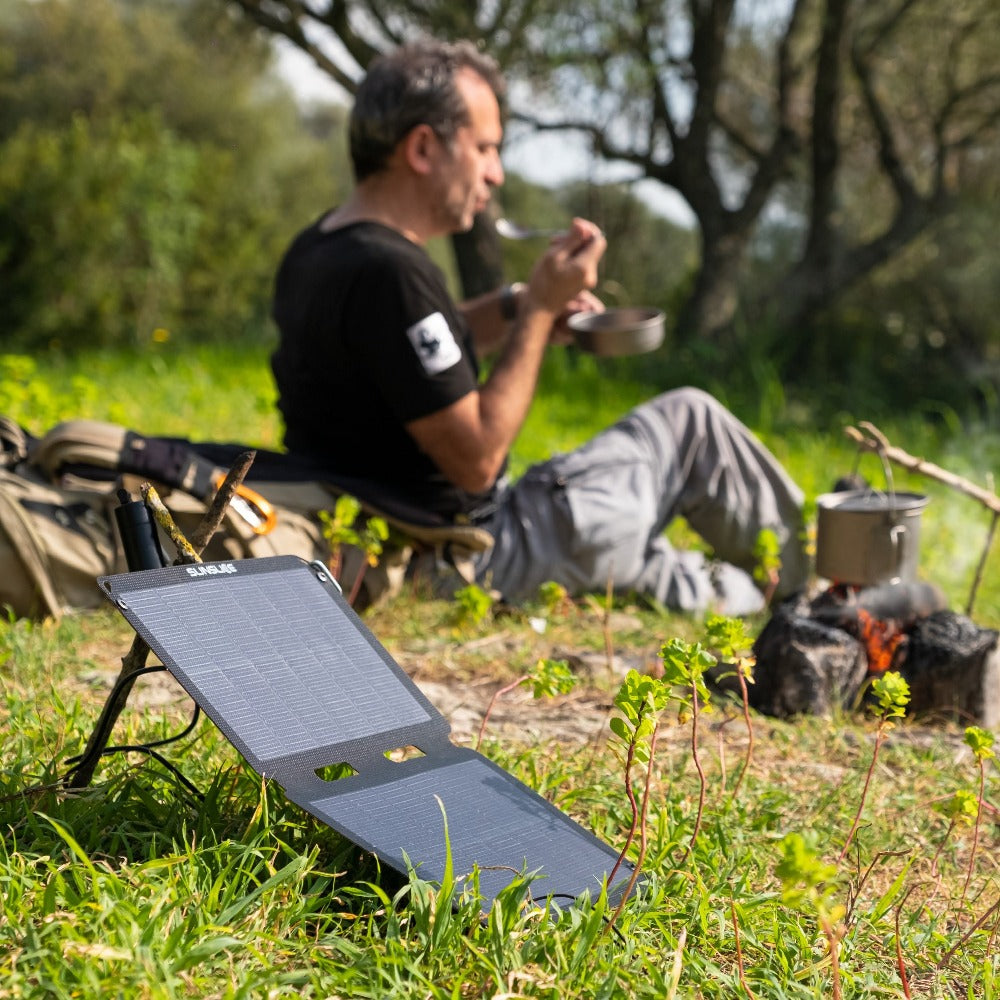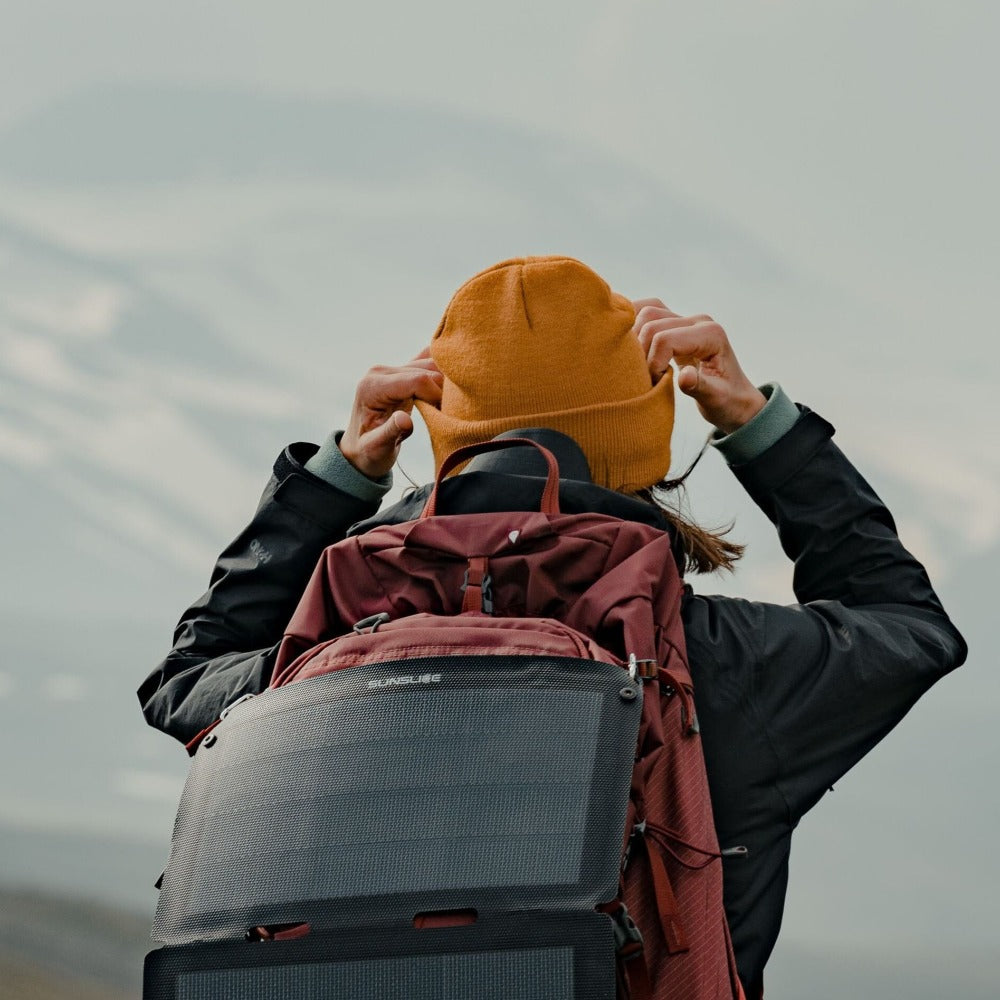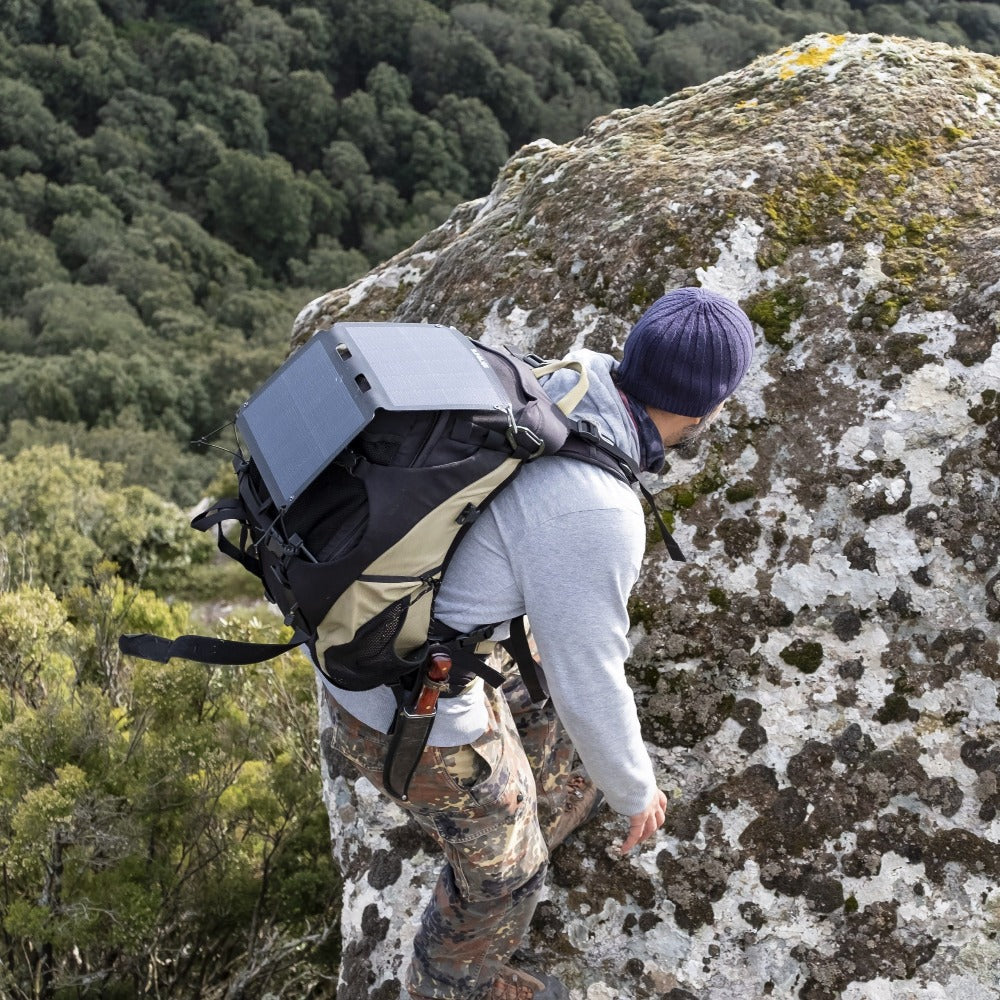 Fusion FLEX 12 Watts - Portable Solar Panel

Trusted Delivery (2-4 days)

The Fusion FLEX 12 is a 12 Watts flexible foldable solar charger, equipped with completely new, highly resistant and flexible CIGS solar cells.
The CIGS solar technology has a 16.5% efficiency and is protected by a scratchproof and water-resistant ETFE coating.
It can therefore be used in rough outdoor situations as it is unbreakable.
The Fusion FLEX 12 integrates a double USB port junction box with charge indicator.
Its foldable A4 format makes it a very practical and compact solar charger as it fits in any backpack and is very powerful, charging a standard phone in only 2h.
Solar Power : 12 Watts
Technology : CIGS 16.5% Flexible Solar Cells
Output : 2 x USB-A 12W : 5V/2.4A
Total Max Output : 12W
Solar Charging Status : 1 x LED Indicator
Weight : 240g
Dimensions - Closed : 288 x 190 x 2 mm
Dimensions - Open : 288 x 385 x 1 mm
Attachment Points : 4
Download the user manual here
FUSION FLEX 12 WATTS
The Sunslice Fusion FLEX 12 is an ultra lightweight, compact and practical solar charger designed by Sunslice to give you the most out of the sun, for the minimum weight and size.
SUPER COMPACT, LIGHTWEIGHT AND FLEXIBLE
Weighing a mere 270 grams and folding down to a small A4 format, the Fusion Flex 12 solar charger is perfect for campers, hikers and cyclists who want high power but who need to keep the weight they carry to a minimum.
The flexible panels are only 1mm thick, meaning they can easily be slipped into a travel backpack, taking barely any space.   
HIGH CHARGING SPEED
The flexible CIGS cells of the Fusion FLEX products were developed in California, and offer some of the best performance available on the market for flexible solar panels, with 16.5% efficiency, not far behind mono-crystalline silicon cells. They provide the highest power per unit weight.

INDESTRUCTIBLE
The solar cells' flexibility and the robust ETFE coating make this portable solar charger virtually indestructible and extremely durable. 
The Fusion Flex 12 solar panel does not fear shocks, scratches, dust, sand water or being bent, so it can follow you on all your adventures! 
SMART DESIGN
This portable solar panel was designed with experts and enthusiasts to provide the best functionalities without compromising on other important features. 
Four strong attachement points have been included on the corners to hang the Fusion Flex easily to any backpack, bike or tent. 
All Fusion Flex 12 are delivered with their accessories: two carabiners and two adjustable elastic bands, so you can attach it easily anywhere! 
NOTE :
We strongly recommend to first charge a powerbank with the Fusion Flex and then charge your smartphone with the powerbank.
This will avoid charge fluctuations caused by the sun and enhance charging speeds.
BEST-SELLING PACK
Combine the Fusion Flex 12 with the Gravity 10'000 mAh powerbank to store the energy during the day and continue using it when the sun is down.